Black Metal
Tsjuder
Review @ heavymetaltribune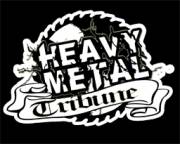 13 January 2012
does not do justice to the legacy that Tsjuder has left
The announcement of
Tsjuder
's return certainly excited me, with the band going hiatus on a high note after their 2004 release
Desert Northern Hell
, which displayed a marked improvement from their previous releases, and through the releases of brilliant post-hiatus albums by the respective bands of Nag and Draugluin,
Krypt
and
Tyrann
.
Krypt
's Preludes to Death also easily came out on top of my favourite 2010 albums, so
Tsjuder
's new album,
Legion Helvete
certainly left me with pretty high expectations, to say the least.
Unfortunately, the first listen to
Legion Helvete
turned out to be pretty disappointing, with the album almost sounding like a half-hearted effort by the band. The weak production quality (at least when listened through headphones), compared to the powerful sound that
Desert Northern Hell
or even Preludes to Death had, did not help this in the least, and only serves to further drag down the quality of the album. Fortunately though, numerous listens later the album becomes more enjoyable. As per previous albums, the band does not give any chance for the listener to prepare for what's coming, as The
Daemon
Throne kicks off the onslaught with a bombastic wall of sound without any warning at all. Nag's characteristic vocals are still present, and are still as tortured as fuck, and Draugluin and AntiChristian also remain as polished on their individual instruments as ever, displaying how they have not let their muscles taken a break since the last time they released material together. Even Nag's bass is also clearly audible, on tracks like Fra en Råtten Kiste.
The songwriting style, for the most part, sticks to the same formula as what the band has utilised on
Desert Northern Hell
, with certain songs like Fra en Råtten Kiste sounding as if it would fit perfectly on the aforementioned album. The 10-minute closing track Vårt Helvete also sounds like a weak attempt to recreate the masterpiece that was
Morbid
Lust
, and though it does have a few enjoyable moments of its own, the track gets boring quickly. While this does not necessarily mean a bad thing, it's definitely not what a fan would expect after a 7-year long wait.
Some songs also end weakly, such as the transition between Fra en Råtten Kiste and Dauðir, which leave listeners slightly disoriented and fans of
Tsjuder
's previous works disappointed. Dauðir even has moments of lead guitar fiddling in the background at some parts, and these certainly seem slightly pointless and could have easily been done away with. Furthermore, the songs are considerably less powerful compared to those written on
Desert Northern Hell
, without powerful moments such as those on
Possessed
, or even their cover of
Bathory
's
Sacrifice
, leaving little memorable moments on what could have been a potentially excellent album.
Overall though, while
Legion Helvete
certainly does not do justice to the legacy that
Tsjuder
has left for themselves before their hiatus in 2006, as a standalone album, it could be a good example of what Norwegian black metal should sound like.
Other productions from Tsjuder
Other famous albums in Black Metal