Melodic Metal
Dragonland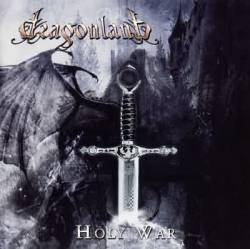 Members owning this album
60
Tracklist
1.

Hundred Years Have Passed
2.

Majesty of the Mithril Mountains
3.

Through Elven Woods and Dwarven Mines
4.

Holy War
5.

Calm Before the Storm
6.

The Return to the Ivory Plains
7.

Forever Walking Alone
8.

Blazing Hate
9.

A Thousand Points of Light
10.

One with All
Comment @ Ronaldark
13 April 2009
Holy War
.
Probably the better one of all the albums from
Dragonland
, they have learned some new tricks to use very well they guitar whit a synth and rock live never before.
This band has four albums whit a style like symphonic power metal, i think thre´s no band that can compare whit this one, because they have something special and diferent than the other power symphonic band. The voice is great is not like the other ones Jonas Heidgert can sing using different tones of voice combined whit the powerfull guitars and the excellent tone of synth, they make a delightly music.
The better song in this album its hard to find, in my opinion there's ore dificult to decide between "
Holy War
" and "blazing hate" or maybe add ont the battle "
Majesty
of the Mithril Mountains" because the songs combine speed, and delightly sounds.
The fans of
Dragonland
are waiting another album like this one, so many people don´t like the new album "
Astronomy
" because they loss the speed (Bethoven's
Nightmare
is a exception), ant other important factors that have made
Dragonland
an important band on power scene.
We´ll be waiting for another
Holy War
... maybe
Holy War
II.
Other productions from Dragonland
Other famous albums in Melodic Metal