Symphonic power
Magica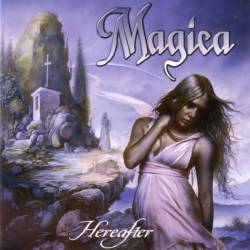 Released date
19 October 2007
Members owning this album
77
Tracklist
1.

All Waters Have the Colour of Drowning
2.

Turn to Stone
3.

Through Wine
4.

No Matter What
5.

Entangled
6.

This Is Who I Am
7.

Weight of the World
8.

Energy for the Gods
9.

Shallow Grave
10.

I Remember a Day
11.

Into Silence
Bonustracks (Digipack Release)
12.

Endless
13.

Vrajitoarea Cea Rea
14.

All Waters Have the Colour of Drowning (Video Clip)
Review @ Julien
Do you know
Magica
? It's a Rumanian band of heavy metal with female voice. They are currently releasing their third opus. That's a little unfortunate for them that their album is coming out after all the major bands of the genre have released one. Nevertheless, this doesn't seem to scare our friends. It is quite the contrary in fact, as they show us a real proof of maturity with this album. Will this opus be the one of consecration for the band? It is not far from that.
Indeed, while the first opus found its public, the second one was a little deceiving. As a result, it was difficult to know what to expect from this
Hereafter
. The answer is now clear to me:
Magica
successfully went back to its roots and this album will please the fans of heavy metal with female voice. I know that you have already spent your money with the last
Nightwish
and the last
Epica
, but this is not a good reason not to get that one: Christmas is coming soon and this album could be a nice gift for you, isn't it?
With
Hereafter
, the band manages to mix a great rhythmic and melodic efficiency with passages very technical for a band of that style. Some parts are even close from being progressive, what is not to annoy me at all.
The voice is well in place and the beauty is indeed in great shape. Impressive, you said impressive? In her specific register, Ana Mladinovici is excellent and she galvanizes the whole album by herself. The good production reinforces this impression: great efforts were deployed to give a good sound to this album. Of course,
Magica
didn't receive half-a-million euros to produce its album, but the result is nevertheless powerful and perfectly relevant for this style of metal.
At the end, this is a good album that will unfortunately suffer from the concurrence of the major releases that came out these last months. Nevertheless, if you are a fan of heavy metal with female voice, it would be a shame missing this album full of good things.
Translated by Heavyboy
Other productions from Magica
Other famous albums in Symphonic power