Brutal Death
Corpus Mortale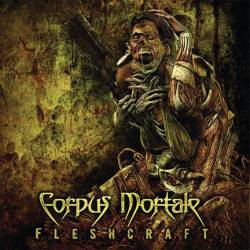 Released date
08 January 2013
Members owning this album
28
Tracklist
1.

Weakest of the Weak

05:23

2.

The Unwashed Horde

03:55

3.

A Murderous Creed

04:15

4.

Scorn of the Earth

04:25

5.

Love Lies Bleeding

04:17

6.

Enthralled

05:09

7.

Feasting Upon Souls

03:05

8.

Crafted in Flesh

02:01

9.

Tempt Not the Knife

04:02

10.

Seize the Moment of Murder

04:51

Total playing time

41:23
Review @ GandhiEgo
Danish mighty alchemy of Death!
Recently, Martin Rosendhal and Brian Eriksen have kept busy. Not only did they announce the reactivation of
Iniquity
but they're also giving us a new album from their other band
Corpus Mortale
. Since Neurotic Records have been rather inactive in the last few years, preferring to devote their time to the annual fest Neurotic Deathfest which takes place in the Netherlands in Tilburg, the band moved to Deepsend Records, a label from the US and already known for releasing Danish Death
Metal
(
Dawn
of
Demise
,
The Cleansing
,
Deus Otiosus
and
Spectral Mortuary
).
Fleshcraft
(
2012
) displays on its cover a vaguely human creature, seemingly made of a pile of formless flesh and with protruding members coming from whatever experiment gone wrong or some human mutation (fans of Full
Metal
Alchemist
should get this one). Either way, unlike the mad scientist that came up with this poor creature,
Corpus Mortale
really are masters of their own art.
A worthy follower of
A New Species of Deviant
, it doesn't take long for the track Weakest of the Weak to impress with its technical guitar play (without ever going into demonstration mode), its solid rhythm section and its efficient drumming: at 3:28, is a perfect example of the overpowering riffing imposed by the Danes.
Guitar and bass parts were recorded at Anders Lundemark's studio (
Konkhra
), the vocals recorded at drummer Rasmus Schmidt's studio and both mixing and mastering were taken care of by Jacob Olsen (already guilty with
Panzerchrist
's Regiment
Ragnarok
)… That sounds tricky! Still, the end result is more than satisfying with this pounding and tar-laden sound that characterizes the Danish scene and putting under the highlights the perfect balance shown by the band: in between old-school Death
Metal
and the more modern scene.
You soon will also notice that guitar leads are always great just as in the central piece of The Unwashed
Horde
or the final part of Enthralled.
Maybe what
Fleshcraft
may lack of is surprise, but if the urge to innovate was in the first place the main quality of such bands, I guess we'd know it by now.
Corpus Mortale
play the way they do best: genuine and inspired Death
Metal
, without giving second thoughts if they sound old-school enough or not. This "issue" is actually more of an identity crisis that younger acts seem to suffer from since they didn't live during this golden era, like a born again Christian more exalted than its older peers. In other words, if you can see past post-1991 Death
Metal
, you should definitely dig
Fleshcraft
.
There's no way you won't be begging on your knees when
Scorn
of the
Earth
plays with its devastating riffing. No way you will not worship the heaviness of
Love Lies Bleeding
with its final decimating acceleration. Along with other superior tracks, Feasting Upon and his neck-breaking rhythmic sections influenced by
Severe Torture
or
Suffocation
is another fine gem. And talking about
Suffocation
, Brian Eriksen and his crew have also given to an old habit developed by the New-Yorkers: re-recording and polishing anew an old song, here with
Seize the Moment of Murder
taken from the eponymous EP.
Five years after
A New Species of Deviant
and nine after
With Lewd Demeanor
,
Corpus Mortale
took their time to come up with a typically Danish record: powerful, technical and precise but always with this old-school feel they can't let go of.
Fleshcraft
comes as yet another addition to all the great Death
Metal
releases of
2012
with other fantastic albums by
Cannibal Corpse
, Temple,
Aborted
, Coffin Text,
Beheaded
and
Asphyx
… that is… at the very top!
Review originally written by BEERGRINDER and translated from French with his permission.
Other productions from Corpus Mortale
Other famous albums in Brutal Death