Glam Rock
Steel Panther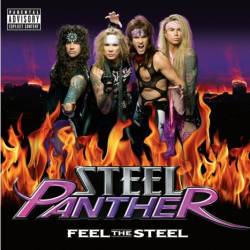 Album Name
Feel the Steel
Released date
09 June 2009
Members owning this album
113
Tracklist
1.

Death to All But Metal
2.

Asian Hooker
3.

Community Property
4.

Eyes of a Panther
5.

Fat Girl (Thar She Blows)
6.

Eatin' Ain't Cheatin'
7.

Party All Day (Fuck All Night)
8.

Turn Out the Lights
9.

Stripper Girl
10.

The Shocker
11.

Girl from Oklahoma
12.

Hell's on Fire
Comment @ Panzerjager
Some might say: "Glam metal is dead and a memory of the 80'ties."
But
Steel Panther
strikes back with '
Feel the Steel
' and makes you see that Glam metal isn't dead at all. This album was released in 2009 but has the sound, image and feel of a real hair metal album of the 80'ties.
The first track on '
Feel the Steel
' is '
Death to All But Metal
'. It's a remake of the version that can be found on the album 'hey, that's what I call
Sludge
' by the magazine metal
Sludge
All-Stars. This song has the Glam metal sound and a very clear message: Dead to mainstream music!
This album is fun to listen to, in every sense. Combined with the nostalgic glammy sound, this album is filled with jokes and hints concerning sexuality and the not so bright sides of men. 'Turn out the lights', for example, is satirical song about sex with a quite fat girl.
Steel Panther
is straight forward and uncompromising in its lyrics. Discretion and censorship is unknown to these guys.
Several well-know artist from the
Metal
scene are guests on this album.
Corey Taylor
of Slipknot and Scott Ian of
Anthrax
for the song 'Asian Hooker'. Or what did you think of a duet of
Steel Panther
and M. Schadows (
Avenged Sevenfold
) or Justin Hawkins (
The Darkness
). It's all possible and adds diversity to this album.
Sadly enough, this album offers a whole storm of so called 'dick jokes'. This is not always very interesting to listen to because all clichés and jokes come past in this
Metal
album.
Finally, this metal album brings back a sound that makes the listener dream of the golden age of Glam
Metal
.
Meanwhile
Steel Panther
adds fun, satirical lyrics, a little cliché to make a quite good combination of all elements needed for Glam metal but it may become a bit boring sometimes.
Other productions from Steel Panther
Other famous albums in Glam Rock