Melodic Death
Arch Enemy
Tracklist
1.

Enter the Machine

02:02

2.

Taking Back My Soul

04:36

3.

Nemesis

04:12

4.

My Apocalypse

05:26

5.

Carry the Cross

04:12

6.

I Am Legend / Out for Blood

04:59

7.

Skeleton Dance

04:34

8.

Hybrids of Steel

03:49

9.

Mechanic God Creation

06:00

10.

Machtkampf

04:16

11.

Slaves of Yesterday

05:02

Bonustracks (Japanese Edition)

12.

Heart of Darkness (Live in Paris 2004)

13.

Bridge of Destiny (Live in Paris 2004)

Total playing time

49:04
Review @ hack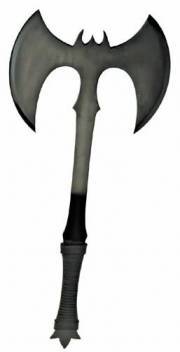 21 October 2009
The first time that I had heard of
Arch Enemy
was in 2005, CM Distro sent me an advertisement plus a sampler disc of
Doomsday
Machine and I wanted to buy the album.
Once
it was released, I got it at a record store for 10 bucks, it was a special promotional deal. Now it costs about 16 bucks. This album sold 12,000 copies in the USA in its first week and debuted at #87 on the Billboard 200 chart. This is the eighth album for this Swedish melodic-death metal quintet.
Vocalist Angela Gossow is a beautiful blonde lady from Germany, she shrieks and growls in a grim vocal style. She wrote most of the lyrics for this album. Guitarist Michael Amott is an ex-member of
Carcass
, bassist Sharlee D'angelo has played for
Mercyful Fate
, drummer Daniel Erlandson has played for
In Flames
. So this band might be considered to be a "supergroup".
This album was recorded at The Slaughterhouse Studio in Sweden, it was convenient for them, because all of the band members lived nearby. The album starts out with a slow paced intro (Enter
The Machine
), then Taking Back My Soul begins with some technical bass riffs, Angelas vocals start off shockingly shrill. Then next, my favorite song,
Nemesis
. This song is a death metal anthem. It's very melodic with an energetic beat. I Am Legend/Out For
Blood
is an awesome jam. The Amott brothers display a tandem of very intricate shredding before an abrupt acceleration in the tempo.
Almost every song kicks ass, but there are a few dull moments. Sometimes the repetitions of the slower bits get redundant. Some of the lyrics are a bit cheesy, like the "one for all, all for one, we are strong,we are one" refrain which is used excessively in the song
Nemesis
.
Overall this album is superior to their preceding release (
Anthems of Rebellion), because the songs are way more dynamic and explosive. As usual,there are many intricate guitar solos and moments of catchy bass riffs. But this album is more intense than their earlier releases. This is a great album. Similar bands are Carcass and Defleshed. I highly recommend this album for any fan of death metal.
Other productions from Arch Enemy
Other famous albums in Melodic Death