NWOBHM
Iron Maiden (UK-1)
Band Name
Iron Maiden (UK-1)
Album Name
A Matter of Life and Death
Released date
25 August 2006
Members owning this album
1250
Tracklist
1.

Different Worlds

04:17

2.

These Colours Don't Run

06:52

3.

Brighter Than a Thousand Suns

08:44

4.

The Pilgrim

05:07

5.

The Longest Day

07:48

6.

Out of the Shadows

05:36

7.

The Reincarnation of Benjamin Breeg

07:21

8.

For the Greater Good of God

09:24

9.

Lord of Light

07:23

10.

The Legacy

09:20

Total playing time

1:11:52
Comment @ TJKill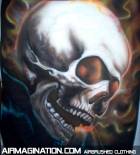 29 April 2007
And finally, after three long years,
Iron Maiden
has realesed an album worthy of this delay. This album, like many others from the Maid
En
, has produced several amazing ph
En
om
En
ons such as The
Pilgrim
or
Different World
. Another hit of a band that seems to be an
En
dless pit of s
En
sation and that will never cease to amaze its audi
En
ce. Although I already knew this famous band and famliliare whith their works, I was simply blown away wh
En
they played These Colours Don't Run
Live
.
Every aspect of this album is outstanding. Powerful guitar ruffs accompanied by amazing solos make it a beauty to all guitarits, and a loud bass gives it a pure metal vibe.
It seems that we have here another jewel of the Mighty Maid
En
, one that will surely mark other albums to come, and not just from the same band, but for all others that wish to rival with
Iron Maiden
or ev
En
come close to the wonders they have acheived. This is another marvel of the
Metal
world that proves that this British band will remain a leg
En
d of
Metal
. A superb piece of sonic supremacy that should be owned by everyone that ehishes to be considered a
Metal
Fan. 19/20(and bloody well deserved)
Other productions from Iron Maiden (UK-1)
Other famous albums in NWOBHM