Deathcore
Whitechapel (USA)
Tracklist
Re-Issue in 2013 by Metal Blade Records with a different cover.

1.

Necrotizing

00:35

2.

The Somatic Defilement

05:19

3.

Devirgination Studies

03:12

4.

Prostatic Fluid Asphyxiation

03:33

5.

Fairy Fay

03:33

6.

Ear to Ear

03:30

7.

Alone in the Morgue

02:53

8.

Festering Fiesta

02:29

9.

Vicer Exciser

02:52

10.

Articulo Mortis

04:03

Total playing time

31:59
Es wurde kein Artikel in Deutsch gefunden, Es werden die Artikel der englischen Sektion angezeigt

Review @ miniradman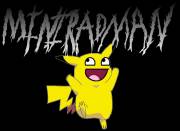 09 Dezember 2010
Whitechapel
's
The Somatic Defilement
was their Debut album and it was released in July 2007 by
Siege
Of Amida Records. This album is of the deathcore genre. With the latest uprising of many deathcore bands around the world,
Whitechapel
's popularity has risen extremely fast. Because of this album
Whitechapel
is one of the bands that are on top of the
Deathcore
Charts. This Album features
Intense
Breakdowns, Very Deep Growls and high pitched squeals / Screams and music that will bust you ear drums.
This is an incredible debut album from one of the best
Deathcore
artists in the business. The album is full of
Deathcore
goodness. It has some of the best breakdowns I have ever heard, the music is very tight and the blast beats are amazing. The guitars are very heavily distorted and the solos sound great when they are like this. The drumming is very fast and tight with the music, not to mention how fast the double kick is. It is very fast. Not only does this band succeed in making extremely fast paced music but there are also some beautiful melodic parts, such as in the song
The Somatic Defilement
where there is a melodic part towards the end of the song and it goes into some beautiful violin playing. It is this mixture of techniques that makes this album exciting and doesn't make me want to go to sleep. Not only is the album great musically but the lead singer Phil Bozeman is fairly skilled when it comes to dirty vocals, there are many parts on this album where he likes to show off how long he can do a deep growl. These can be found in the songs Devirgination Studies and
The Somatic Defilement
. Also Phil Bozeman can scream really fast which not many other screamers can do well. This album also has another perk and is that this album can be targeted at a much wider audience, not only
Deathcore
fans but also Death
Metal
and hardened Nu/Industrial
Metal
fans as well.
This album has had many great aspects to it, but there are a few things that may rate it down. Firstly the music doesn't seem very clear, It is a bit hard to describe but it is there. If you compare the sound of
Suicide Silence
and
Bring Me The Horizon
the sound is very clear, unlike this album. It not so unclear that the listener can't hear it, it just sounds a bit like demo quality. Also the vocalist Phil Bozeman is great but he seems to finish his words a little short and doesn't seem to follow through with them. This is very evident when he tries to scream really fast. Also when he screams really fast the pitch isn't as high as it should be and this does happen in
Deathcore
that often. His vocals aren't as crisp as other vocalists and it sound like he is screaming from his centre throat rather than his Diaphragm or his upper throat.
Also that
Whitechapel
focuses on trying to be heavy all the time. There are a few melodic parts to this album, no doubt and they have some really heavy breakdowns. There are also parts where they try to get heavy but it sounds a little boring and some may refer to this as Chugging. A great example of this would be in the song Ear To Ear. Also sometimes the music can get very disorganised and sound very ugly, this is the case when the other band members play at 100 miles per hour tightly but the vocalist tries to sing really fast and throws the whole thing out of place.
Also this album is a little bit short. It has 10 tracks on it and the run time is approximately 30 minutes. Not to mention that one of the tracks featured is also a 30 second musical, this is not the best thing to have in such a short album. So in short you don't get as much bang for your buck.
Overall
The Somatic Defilement
is a pretty good debut album and it did set up
Whitechapel
's popularity so overall it was a complete success. It gave the audience a good impression on what
Whitechapel
is like and what they are all about.
The Somatic Defilement
features heavy breakdowns (the best ones are In the songs
Articulo Mortis
and Fairy Fay) some good solos and very good vocals. There are some things that let this album down a little though and that is the music is not very crisp and sometimes the music can sound very disorganised .
Whitechapel
is extremely popular in the
Deathcore
scene and their popularity will continue to rise as long as they don't change their sound. Overall I rate
The Somatic Defilement
a 16/20
Review @ Unicorn88
08 Januar 2012
I'm sure most of us have heard
Whitechapel
before. The industrial beginning of songs like Section 8, the sappy guitar of songs like Single File to Dehumanization, the soft guitar interludes of songs like Possesion. This is NOT like that! This album is raw and it's brutal! If you're like me, you will be happy to know that
Whitechapel
wasn't always the
Whitechapel
you have now.
Let us start with Phil Bozeman. Best deathcore vocalist in my opinion. What a way to debut in the metal scene. His highs were on point, his lows were brutal, his guterals were gut-wrenching. You can't do much better vocals on an album. Alot of the songs have very angry lyrics and his vocals really emphasize it. It goes perfectly with the music.
The guitars are pretty good. I'd like a band with 3 guitarists to be a little more technical but the guitars have a definite flow to them. They don't just sound like noise which a lot of bands with an extra guitarist sounds like. It definitely adds a certain feel to have that extra blast of sound in your ears. The bass is as existent as most deathcore bands unfortunately. As a bassist, I'd like the bass to actually be there instead of just be on stage with the rest of the band.
Top quality drumming! Kevin Lane definitely stands out in this album. His drums are thumping, fast, technical. Anything you can ask for in a deathcore drummer. He controls the rhythm in a lot of the songs. It goes perfect with the guitars. The only deathcore album I can think of off the top of my head with better drumming is The Ills of Modern Man by
Despised Icon
, but the drums keep with the rhythm, where Alex Grind from DI just went on his own path. Definitely an amazing drum album.
In all, if you like deathcore or even death metal,
The Somatic Defilement
is an album you must listen to! I rate it 19/20. The best deathcore LP I've heard so far and I wish
Whitechapel
kept with the simplicity of this instead of over indulging on manufactured industrial samples and sappy bottom-string guitar riffs. But at least they made one amazing cd before going down that path.
Review @ SeasonsMist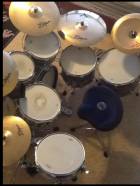 16 Februar 2013
Puts the Death in Deathcore
This is
Whitechapel
's first release, and along with releases such as "Count Your Blessings" by Bring Me the Horizon, "
The Cleansing
" by
Suicide Silence
, and "
Allegiance
" by
As Blood Runs Black
; this album help defined
Deathcore
as a style. Breakdowns are plentiful in this album, and are of little stylistic variation, although one has to understand that in 2007 they were "innovative". Apart from a couple standout tracks ("
The Somatic Defilement
", "
Articulo Mortis
"). This album has a generally bland blast beat, breakdown, double bass, and It never really changes throughout, which is a big detractor. However, this album's year of release and death metal evoking style left such prominent impacts on future releases this being its main contribution in the metal world.
Phil Bozeman's vocals are awesome here, and the lower production quality of this album muffles the guttural vocals and makes the high screams sound abrasive. This plus the overall incredibly bass-heavy mix is reminiscent of a
Deathcore
take on early death metal. The lyrical content focusing on Jack the
Ripper
(
Whitechapel
being the town where he achieved infamy) is very detailed and methodical, and the lyrical content is thematic throughout the whole album. The lyrics plus the dark feel of the music are a nice effect. The vocals on this album are overall very good.
The guitar work on this album is very strong in some places, weak in others. Most of the riffs played on the higher strings are very adequate are easily distinguishable in newer
Deathcore
music, as this album was a pioneer. "Fairy Fay" has a particular sick guitar howl at the beginning, and overall "
The Somatic Defilement
" boasts the best riffs and most creativity on the guitars. The rest of the album is detracted from by the audacious downtuning, and in many parts where the drums are blasting, the guitar is played on the lowest note, open-string. This gives the almost
Chelsea Grin
sound where the guitar is so low it blends with the bass. Heavy for sure, but just generic and outdated. The bass is tuned so low that its main purpose is the breakdowns, and there is no creativity at all expressed by the bassist. Overall I'm torn by the guitars, because on one note the down tuning works well with the album's theme and some riffs are very good, but in other places as generic as generic gets.
The drums are tuned abrasively and sound heavy and raw. The clicky bass plus the thick snare sound and brash cymbal noise works very well with the album. Some tracks have a surprising amount of percussion creativity, namely "
The Somatic Defilement
". In some other songs though, like "Devirgination Studies" the drumming is bland and repetitive, although comparing it to the other big stylistic determiners of
Deathcore
,
Whitechapel
does out do
Chelsea Grin
, Bring Me the Horizon, and is about tied with
Suicide Silence
. The drums are a little above average, and at least adequate in all places.
Overall, a good album and pioneer release for
Deathcore
- just don't expect much creativity or progression here, keep in mind that this is a pioneer album not a progressive one. Honestly, it appears 50% of the entire album's effort went into the title track, and this track pretty much displays all the positives of this album and not the negatives. Unless you really, really like
Deathcore
,I would only recommend buying the title track and maybe "Fairy Fay" and "
Articulo Mortis
". I would give this album a 13/20.
Anderen Alben von Whitechapel (USA)
Anderen bekannten Alben in Deathcore