Progressive Death
Amorphis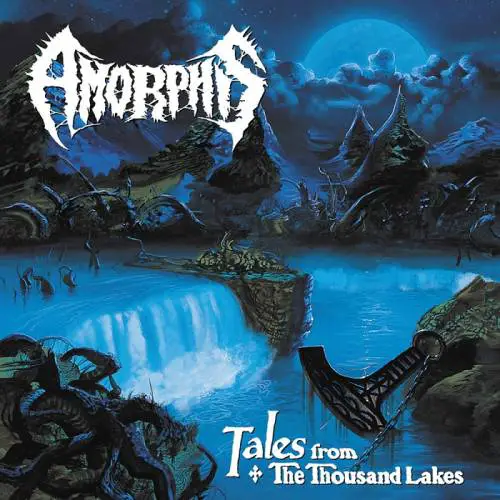 Album Name
Tales from the Thousand Lakes
Erscheinungsdatum
01 Juni 1994
Mitglieder die dieses Album besitzen
367
Tracklist
Bonustrack available on Digipack Edition.
1.

Thousand Lakes
02:04

2.

Into Hiding
03:45

3.

The Castaway
05:32

4.

First Doom
03:52

5.

Black Winter Day
03:50

6.

Drowned Maid
04:23

7.

In the Beginning
03:37

8.

Forgotten Sunrise
04:53

9.

To Fathers Cabin
03:50

10.

Magic & Mayhem
04:27

Bonus

11.

Light My Fire (The Doors Cover)
02:52
Total playing time: 43:05
Es wurde kein Artikel in Deutsch gefunden, Es werden die Artikel der englischen Sektion angezeigt

Review @ L4G4RT0

21 November 2010
Please notice that all my reviews are written by doing a leap in time, so I'm now in
1994
- although this is one of those albums that makes no difference at all!
This the second album from a new (lol) band called
Amorphis
, from Finland, one of the countries who makes fine metal, and black metal in particular, so I was eager to listen if they could match some of the other Nordic bands that are on top of great metal nowadays.
The introduction spreads a scent of mysticism and leaves us waiting for what's to come and hell, what a first track: Into Hiding is a short song, so rash with wicked-sounding vocals and heavy drums and a very very dense sound in guitars. Beautiful guitar riff work I'd say since it goes so well with those discrete keyboards. There's also a clean voice, a bit operatic that also comes from a strange place, but how shocking that it sounds so good altogether! After this first moment of "shock" you dive into a folkloric rhythm in The Castaway, and yet again the band is able to produce a great song with one of the most catchy guitar solos that I remember listening - simple and yet so effective! First Doom is the preparation to what's to come: the brilliant
Black Winter Day
. There are enough elements here to make you listen to this song again and again: those hypnotic keyboards that sound so "amateur", that guitar riff and rhythm guitars that make a perfect match, the powerful grunts and the clean vocals that paint the scenery to folkloric. This is a must-listen and the only problem is that you will find it a bit short!! Song after song you're impelled to bang your head by the rhythm of those riffs, by the power of the drums (they sound really loud and potent!), and those slower interludes that the band likes to play are just delirious. In The Beginning is another pearl with some nice clean vocals, then going to an impressive sound, potent, with a seventies-disco sound in the middle (what the heck?? I'm not sure where did they got that idea but again... sounds brilliant!). Honestly, I was trying to write what is the song I like less but it's hard to find a "less" on this album... (just listen to that start on To Father's Cabin which sounds a bit like
Metallica
and then turns into a hypnotic song... Extraordinary work.
The lyrics are a bit short, but who cares when the band has so much music to play and you have so much detail to listen? So,
Tales from the Thousand Lakes
is one of my favorite metal albums ever. It's not perfect (almost there) but I learned to love it's imperfections.
Maybe you feel I overrated this album a bit, who knows? I can say that 16 years after it's release I still listen to it a lot of times, when I really want to listen to how many bands should work their music, by using all their skills and building an intense sound that also sounds really well. If you're listening to this album for the first time you will probably think that I'm a bit crazy... or maybe not... but if you don't know it, please please please try to find a way to meet
Tales from the Thousand Lakes
.
Anderen Alben von Amorphis
Anderen bekannten Alben in Progressive Death