Deathcore
Whitechapel (USA)
Band Name
Whitechapel (USA)
Erscheinungsdatum
08 November 2011
Mitglieder die dieses Album besitzen
41
Tracklist
1.

Section 8

04:26

2.

Strength Beyond Strength (Pantera Cover)

03:47

3.

Breeding Violence (Big Chocolate Remix)

02:52

4.

This Is Exile (Ben Weinman Remix)

03:15

5.

End of Flesh (Acoustic Version)

04:19

Total playing time

18:39
Es wurde kein Artikel in Deutsch gefunden, Es werden die Artikel der englischen Sektion angezeigt

Review @ CLucker666

14 Dezember 2011
Recorrupted
is
Whitechapel
's 2011 EP. When I heard
Whitechapel
was releasing a new EP, by instinct I pre-ordered it. I thought it was going to be a heavy
Deathcore
album, that I could really get into. I was somewhat wrong.
The album is composed of one actual
Whitechapel
song and it is very good. The riffs are powerful, the vocals are deeper than ever and amazing like always, and the breakdowns are very heavy. It's a classic
Whitechapel
song and probably some of their best work yet. After that there is a
Pantera
cover(Strength
Beyond
Strength). It is pretty good, definitely sounds like a
Pantera
cover, and is an all out good song. It is well thought out and I think it's great that modern age bands still respect the classics. Then again, who doesn't like
Pantera
?
The part of this EP I didn't care for at all were the Big Chocolate and Ben Weinman remixes. They remixed two songs.
Breeding Violence
and
This Is Exile
. I think the whole dubstep thing is way too overrated and trendy. The songs were dull and boring, it was not
Whitechapel
at all. If the album wasn't five dollars, I would have definitely sent it back. Also I really didn't care for the acoustic version of
End
of
Flesh
. It was really good for an acoustic song. But when does
Whitechapel
ever play acoustic songs? I just feel like after hearing that
Whitechapel
is going to turn into a sellout band, even though they are already mainstream for a
Deathcore
band.
At least there are the first two tracks that are worth listening to. Section 8 is definitely a great song. So I still have a lot of hope for
Whitechapel
in the future. Hopefully they will lay off the dubstep, acoustic songs, and stick to bone crushing
Deathcore
.
Well the only reason I'm rating this as high as I am, is because of section 8, and Strength
Beyond
Strength. So 15/20. Below is a video of the song Section 8, definitely worth a listen.
Review @ Unicorn88
20 Dezember 2011
If you love Whitechapel, Recorrupted will disappoint...
Whitechapel
is definitely one of the better
Deathcore
bands, as you can hear in their 3 full-length albums. If you're a real
Whitechapel
fan, this album will be like a punch to the gut.
Phil Bozeman is an amazing vocalist but I think he definitely fell flat in this EP. All growls, no highs. A semi-spoken word part in Section 8 that sticks out like a sore thumb, due to its lack of feeling and originality. The vocals in Strength
Beyond
Strength was better, but still lacked the energy that Phil Bozeman usually has in his vocals. Pretty Disappointing for Phil Bozeman, but it'd still be pretty good. If it were a vocalist that lacks the potential Phil has.
The guitars were nothing special. One thing that always really bothered me is that
Whitechapel
has an extra guitarist but they still play very weakly compared to bands without that advantage. Like Thy Art is Murder &
Despised Icon
. This album somewhat like the ethos of that. Not one part jumps out at you or makes you think that the band is really something special instrumentally.
The drums, as in every
Whitechapel
album, are pretty good. A lot of really good parts in Section 8 and Strength
Beyond
Strength. The drums are really the only real thing in this album I have no problem with. It seemed like Ben Harclerode was really trying his best to make the drums as good as possible. Maybe it's because he's the newest member of the group so he wasn't in the under-creating, anti-energetic slump the rest of the band seemed to be in when this EP was made.
Of course, I have to talk about the remixes. I always hated remixes. Remixing songs like
This Is Exile
and
Breeding Violence
is like taking a priceless piece of art and painting over it. It's really disgusting to see a dub step mix of
Breeding Violence
. The mix of
This Is Exile
wasn't as bad, but they really should let songs just be songs. Remixing it just doesn't sound right.
Overall this is a pretty bad album. I gave it a 11/20 simply because the drumming, the fact that Phil is still the best vocalist in the genre. Even without the superb performance. I'm used to from him and the fact it's
Whitechapel
. If you're a
Deathcore
fan,
Whitechapel
has to be on the top 5 of the best bands in the genre for you.
Review @ miniradman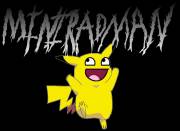 22 Dezember 2011
From the very moment
Whitechapel
released their debut album
The Somatic Defilement
they were destined for greatness.
Whitechapel
were the ones that I think were the first to give a clear and defined deathcore sound because I didn't feel that bands such as
All Shall Perish
and Animosity were as "pure" as
Whitechapel
was (although they were still deathcore). Over the short time
Whitechapel
has been around, they have released some awesome deathcore pieces (pieces which are now engraved in deathcore history) and over that time, they're sound has relatively stayed quite constant. Unless you compared
The Somatic Defilement
with
A New Era of Corruption
because then you might see some difference. My thoughts as soon as I hit play on the
Recorrupted
EP were "oh boy the metamorphosis is happening!"
Before we dive into the exact details on the music, I'll just tell you what has stayed the same *SPOILER ALERT!*. First are foremost, the vocals still sound very familiar from their earlier works. Now before you start cheering and going and telling your friends "ZOMG,
Whitechapel
haz a new EP out!" don't. Why? Because I don't think that the vocals are the best. Let's think for a second shall we…What did people like about Phil's voice in the first place? Was it the high pitched screams, the extremely low guttural or the way he can rap and scream at the same time. I can tell you that there is absolutely no evidence of either of those traits that I witnessed in
Recorrupted
and to be honest I have a slight feeling that they won't show up in
Whitechapel
's next album (what ever it may be). Sorry to burst the bubble fellas.
Also the guitar sound and tone hasn't really changed either. But I don't know if this is what others hear or if I'm just retarded, but I think that the guitars this time round have a slight hardcore edge to them. This doesn't really change the overall atmosphere that was seen in earlier works and what
Whitechapel
fans have come to love most, but it does make it sound a little different in neither a positive or negative way. But even for hardcore, it's not that interesting.
Hang on, hang on… here's something different *ANOTHER SPOILER ALERT*, there's a guitar solo in the track Section 8. I don't remember any decent guitar solos in any of
Whitechapel
's earlier albums. I don't know why they haven't bothered to put any in though because I think that this solo is definitely the highlight of the EP. Its well constructed, quite melodious but the only problem is that it leaved me hanging, I want more damn it! and I want it now! They kind of remind me of
Bullet
of My
Valentine
's guitar solos in a way. But I know for a fact that having guitar solos doesn't equal a gold standard music. Take
Suicide Silence
's No Time To Bleed as exhibit A.
From what I've heard, I think that
Whitechapel
might take a more hardcore direction to their music and I hope to god that they don't include too much electronic shit in their music. Although there are three of five tracks that are electro remixes and there is one cover, judging by the only "real"
Whitechapel
song Section 8, I think they might have a more hardcore direction to their music.
After reading some of the other reviews people have written on this EP, people are really expecting the worst from a new release which might be out very soon. To be perfectly honest, I though that earlier
Whitechapel
was just a tad plain which is what I think pure deathcore is. Pretty much every track was the same in
This Is Exile
and
The Somatic Defilement
with the occasional melodic sections (which I think were the only things that held the music together). After hearing this, I have a feeling that even
Whitechapel
have decided it's time for a change. Will hardcore be their new direction? Well, Section 8 says so and I think it will be interesting on how they interweave their current
Whitechapel
deathcore with this new
Whitechapel
hardcore. Or maybe everything I've mentioned is totally wrong and they're just going release another deathcore release.
Many other reviewers have been really disappointed with this little "teaser" of an EP (and I think a few might have been trolled). Well, I think that they're looking at the whole EP the wrong way. Although most of it isn't really anything new and I agree that its crap, I think that we should only be looking and examining the track Section 8. Mainly because it's the ONLY real
Whitechapel
song which isn't a techno remix, cover or an acoustic track. I think that
Whitechapel
have done this on purpose to keep what they really have in store for us secret. To be honest though, I'm not that excited for
Whitechapel
's new release but I'm just a tad curious on whether or not they go a different direction with their music, stay where they are right now or the reactions of fans if they do officially change direction. I can say one thing though… I sure hope it's not as bad as
Suicide Silence
's Black
Crown
album and if it is I'll cry (not really). I'm going to have to give
Whitechapel
's
Recorrupted
EP a 13/20.
Anderen Alben von Whitechapel (USA)
Anderen bekannten Alben in Deathcore