Hard Rock
Volbeat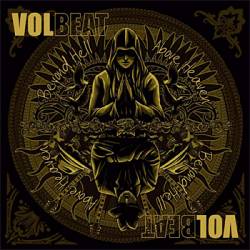 Album Name
Beyond Hell - Above Heaven
Erscheinungsdatum
10 September 2010
Mitglieder die dieses Album besitzen
186
Tracklist
1.

The Mirror and the Ripper

04:00

2.

Heaven nor Hell (ft

.

Henrik Hall of Love Shop)

05:22

3.

Who They Are

03:42

4.

Fallen

05:00

5.

A Better Believer

03:24

6.

7 Shots (ft

.

Mille Petrozza of Kreator & Michael Denner of Mercyful Fate and King Diamond)

04:44

7.

A New Day

04:06

8.

16 Dollars (ft

.

Jakob Øelund of Taggy Tones)

02:48

9.

A Warrior's Call (ft

.

Mikkel Kessler)

04:23

10.

Magic Zone

03:51

11.

Evelyn (ft

.

Mark "Barney" Greenway of Napalm Death)

03:29

12.

Being 1

02:22

13.

Thanks

03:42

Bonustrack (Limited Edition)

14.

Angelfuck (Misfits Cover)

01:31

Bonustracks (Danish Edition)

14.

Rebel Angel

03:22

15.

Pool of Booze, Booze, Booza (Live)

04:11

16.

A Moment Forever (Live)

04:37

Bonustrack (Best Buy)

14.

Still Counting

04:22

Total playing time

50:58
Es wurde kein Artikel in Deutsch gefunden, Es werden die Artikel der englischen Sektion angezeigt

Review @ Aurapigonstilts

09 August 2011
Ah, volbeat. One of the most underrated metal bands around.
Ever
since I heard of
Volbeat
, I fell in love with the sound. And I don't think they disapointed this time, either.
The first thing you notice is the album cover. It follows the same colour theme as The Strength, Rock the Rebel, and Guitar Gangsters. Black and Gold. Also, as a new twist, half the artwork is upside down, which follows through to the back. This, unfortunately, made it harder to read the order of songs, but it still looks cool. The cover sets the theme for most of the songs, conflict bet
We
en good and evil,
Angel
and
Devil
etc. I really like it.
The Mirror and The
Ripper
is the first song. I really like this. It's good fun, very lively and sets a good start for the rest of the album.
Heaven
Nor
Hell
is next, while it sounds a lot different, is still good fun and doesn't screw up the great starting impression.
Who They Are. This, when I first heard it, thought it was a lot heavier than most of their other songs. But
Volbeat
is a band of many talents, and they can pull off both an 'aggressive' song and a 'happy' song very easily and still leave the audience feeling fully rocked out. Next is
Fallen
. A beautiful song about helping those in need. And still purely a
We
some.
A Better
Believer
is song number 5. Not their catchiest song, mianly due to the tempo change halfway through. But still cool.
Next is 7 Shots. I was rather dissapointed by this. I had previously heard a version of this song that I fell in love with at once. But on my album, it sounded... rubbish. It was slo
We
r than I'd heard, flatter, and the singing was so dull. And yet, wherever I look online, it sounds different to my version of the song. It could just be my album.
Anyway, the cover I'd heard was a
We
some. The Guitar solos
We
re a
We
some, as was the drumming, and Mikkael, for the first time ever, introduces growling. I loved it.
A new day is pure epic. No doubt about it.
16 Dollars
is the next song, and, for the first time on the album, it is clear to tell who influences them most. Elvis, Johnny Cash etc. It is a very fast, exciting song. Just check out the video I attached underneath.
A Warriors Call
, as it claims in the CD case, is written for the Danish boxer, Mikkel Kessler. You definitely can tell, too. The song is aggressive and you want to start fighting someone. I don't reccommend it, though.
Magic Zone, in contrast, makes you want to start dancing. it is great fun, and lively. On a down side, this happiness is drowned out by the two songs surrounding it.
Evelyn
. Just... wow. I thought
Volbeat
wouldn't reach any more heavy than Who They Are. I was wrong. So very wrong. So basically, they team up with
Barney
from
Napalm Death
, who sings for most of the song.
We
ll, I say sing, he growls it. For me, this song was hard on the ears the first few times I listened to it. I'm not much of a fan of growling, but after a while,
Evelyn
became much more enjoyable.
Being 1, Just like magic Zone, an a
We
some, upbeat song drowned out by
Evelyn
. If you want to fully enjoy these two songs, skip
Evelyn
completely.
Thanks. No, I've not finished yet, but Thanks is the last song on the album. It basically says "Thank you for listening to us". Without you
We
would be wasting our time. It's a nice finish to the album, and it sounds great. The only problem is that it takes the exact tune from 'Football Song'. This song was never properly released on an album, but was played live in one or two of their concerts. While it's a good song, it would have been better if they had never played Football Song.
Overall, this is a great album. Of course, this coming from a die-hard
Volbeat
fan, and I know some people aren't blessed with the gift of appreciation for the band. I definitely recommend checking them out, because they are so cool. The album itself has a few minor t
We
aks needed, like the placement of songs,
Evelyn
especially, but it is a great album anyway.
Thanks.
Anderen Alben von Volbeat
Anderen bekannten Alben in Stoner