Cyber Metal
Sybreed
Tracklist
1.

Emma 0
2.

Ego Bypass Generator
3.

Revive My Wounds
4.

Isolate
5.

Dynamic
6.

Neurodrive
7.

Ex-Inferis
8.

Permafrost
9.

Orbital
10.

Twelve Megatons Gravity
11.

Ethernity
Bonustrack (Japanese Release)
12.

Technocracy
Bonustrack(American Release)
13.

Plasmaterial
Es wurde kein Artikel in Deutsch gefunden, Es werden die Artikel der englischen Sektion angezeigt

Review @ Julien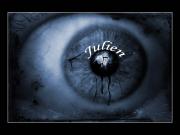 25 Oktober 2007
While I was moribund listening to all these bands of average metalcore, suddenly came to me the second album of the Swiss
Sybreed
. I had never heard of their name and even the bootleg was not helping me gaining any kind of reinsurance. The description was talking about some kind of cyber-metal: why not…
Sybreed
was definitely looking like one of these bands who claim originality simply because they had added two or three samples. Once more, my initial impressions had led me in the wrong direction: this album is in fact a killing. Of course, I've found elements I had heard many times before, but they were here so well realized that I ended with no other choice but the one of … headbanging.
Indeed, this second opus of the Swiss of
Sybreed
is not a really common album. It is rather a prefect example of how humility and talent can merge to give birth to an album which doesn't follow the beaten tracks paved by the Americans. The base is indeed a metalcore alternating screamed singing and pseudo-clear singing. Ben's performance is amazing. Easy in both styles, he is nearly as efficient as, let's say, Burton C. Bell in great shape. If you come talking to him, he will explain you he can't refrain himself from doing a New Wave singing. That is indeed the expression I was looking for to describe him. Ben is a fan of New Wave as he proves here. And beautiful does he indeed.
He is not the only one to 'blame' for this excellent album. After numerous developments, the band ended with no drummer. And who could have been a better Zorro-like saviour than our friend Dirk Verbeuren? Even the band recognizes they were able doing things they couldn't have dreamed of with their previous drummer. The result is groovy, powerful and enjoyable. But the band has also been able to digest and incorporate all of Dirk's influences. As a result, one will recognize some touches of black and some
Meshuggah
-like passages, everything being done with a great intelligence of composition. As you have now understood, this album contains many details to discover. I guess I'm probably not the only one asking me the question. When listened to a second time, the album changes from nice to amazing. Indeed, while this album contains ingenious riffs, its cold ambiance is also impressive. The band would tell you that
Sybreed
is half instrumental half machines. Nevertheless, the machines don't overcome the music. Instead, they accompany the instruments astutely. That's again a proof of great class. The production is powerful and will please everybody. The mix of machines with the other instruments is a perfect, amazing equilibrium.
This is an excellent second album which will get talk about. The band won the right to play the first part of
Pain
at the end of October and I'm really looking forward seeing the Helvetic machine. It is really first class.
Translated By Heavyboy
Anderen Alben von Sybreed
Anderen bekannten Alben in Cyber Metal