Hard Rock
Motörhead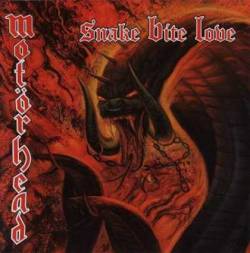 Album Name
Snake Bite Love
Tracklist
1.

Love for Sale

04:52

2.

Dogs of War

03:38

3.

Snake Bite Love

03:30

4.

Assassin

04:48

5.

Take the Blame

04:03

6.

Dead and Gone

04:18

7.

Night Side

03:37

8.

Don't Lie to Me

03:59

9.

Joy of Labour

04:52

10.

Desperate for You

03:27

11.

Better Off Dead

03:40

Total playing time

44:52
在中文中没有找到相关文章, 英语部分的文章已被显示

评论 @ highspeedsamurai

20 七月 2008
Following on from the brilliant "
Overnight Sensation
" where every song was exceptional this time Motorhead de
Live
r an album which consists mostly of solid,decent but not outstanding songs from the groovy opener"
Love for Sale
",through the speedy vampire themed romp that is"
Nightside
" to the rock'n'roll of "Don't Lie To Me" and "Desperate For You"
That's not to say that there aren't some cool original touches to be found along the way."Assasin" features an interesting instrumental break in which Mikkey Dee belts out what can only be described as a samba beat on the tom-toms while "Take The Blame" includes a brief but enjoyable keyboard solo.
Two
songs do stand out though."Dead And Gone" is a magnificent track with haunting quiet verses in which, thanks to technical wizardry, Lemmy sings in harmony with himself.The effect is extraordinary and sets you up nicely for the impact of the crushingly heavy chorus.
The other really impressive song is "Joy Of Labour",a slow bass driven number which is a real departure for Motorhead,sounding almost like something
Pearl Jam
might put out.
On balance then,"
Snakebite
Love" is a good but not great Motorhead album, but still well worth a listen.
Other productions from Motörhead
Other famous albums in Hard Rock