Technical Thrash
Parasyche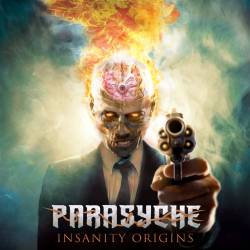 Album Name
Insanity Origins
Tracklist
1.

Box of Hate
04:00

2.

Vesania
06:14

3.

Detonation
05:38

4.

The Treason
05:30

5.

Land of Lies
07:05

6.

Stolen Liberty
05:14

7.

Arise
07:53

8.

Cachafaz
08:01

9.

Need
05:58

10.

The Wolf Inside
05:11
Total playing time: 01:00:44
在中文中没有找到相关文章, 英语部分的文章已被显示

评论 @ MetalSon
20 七月 2017
I've actually lost my hopes, that there will be some really good new band. Yes, there are some good new bands, but I don't like them very much. But band Parasyche is something really good. Why? Well it's technical thrash metal with some old school elements, but it still sounds pretty new. The sound of this album is absolutely TOP.
First we have Box of
Hate
, which I think is most old school song from the record. It's perfect song to start this record, but it's still one of weaker songs from
Insanity Origins
.
Then we have
Vesania
(in spanish), then I started realising, that there is some
Exodus
... or
Megadeth
... or
Metallica
? You can recognize some elements from other thrash metal bands and that is good, because despite all these old school elements, it still sounds fresh, original and new.
Then we have
Detonation
, The Treason (with amazing intro), Land of Lies (for me weakest, but still pretty good song from the record), Stolen Liberty (my third most favorite),
Arise
.
But then we have something really special: Cachafaz. This song has amazing intro, riffs, middle part and awesome ending. But even after all these amazing features, it's not best track (at least for me) and maybe it's because I think this song would sounds much better as instrumental.
Then we have
Need
and then last track: The
Wolf
Inside. That is actually my most favorite song. I can feel how my skin is trembling from this. I don't have words for this.
Well, whole album is good, but there are some better songs and I am happy, that I found this band. Can't wait for something else from this band. #ParasycheRules
(sorry for my english)
Other productions from Parasyche
Other famous albums in Technical Thrash