Thrash Metal
Metallica
Tracklist
Kill 'Em All - Bonustracks (First Elektra Records Pressing 1989)
1.

Hit the Lights
04:17

2.

The Four Horsemen
Listen
07:13

3.

Motorbreath
03:08

4.

Jump in the Fire
04:41

5.

(Anesthesia) Pulling Teeth
04:14

6.

Whiplash
04:09

7.

Phantom Lord
05:01

8.

No Remorse
06:26

9.

Seek and Destroy
06:55

10.

Metal Militia
05:11

Bonus

11.

Am I Evil ? (Diamond Head Cover)
07:50

12.

Blitzkrieg (Blitzkrieg Cover)
03:36
Total playing time: 01:02:41
Нет статьи, созданной на русский, показаны статьи из раздела на английском

Обзор @ hack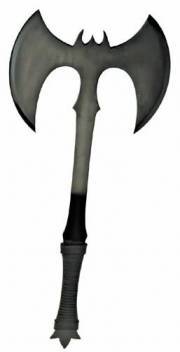 01 Декабрь 2009
This is the debut album from this extremely popular American thrash metal band, who were also
One
of the early pi
One
ers for the genre. They planned to call this first album "
Metal
Up Your Ass" with the proposed idea of a hand rising from a toilet and holding a knife, for the album art. But
Megaforce
records talked them into changing that idea, with the title
Kill
'Em All, with the album art showing a hand dropping a bloody hammer.
They were heavily influenced by the new wave of British heavy metal. Bands like Motorhead, Iron Maiden,
Venom
,
Diamond Head
, and so on.
They performed shows in Los Angeles for about
A Year and a Half
, but weren't well received in that city. Because the fans were more interested in hair metal bands like
Dokken
,
Megaforce
, and
Quiet Riot
. So they moved their act to San Francisco and the crowds loved them up there.
Bassist Ron Mcgovney wasn't fully committed to the band. So Lars complained to Brian Slagel of
Metal
Blade Records about this. He told Lars to check out Cliff Burton, of
Trauma
, at
One
of their upcoming shows in the area. They were very impressed with Cliff and had him replace Ron Mcgoveney. Not only was Cliff a great bass player, but he pushed the band to meet their creative potential.
The irresponsible and irrational behavior of lead guitarist, Dave Mustaine, became a serious problem for the band. Dave Mustaine allegedly kicked Hetfield's dog during a beer party, this led to a fist fight between the two guitarists. They got past this incident. Only to encounter more problems with Dave.
The band were traveling to the East coast for an important gig in a U-Haul truck. The band were sleeping in the back cargo area of the truck. Dave was driving and he was so drunk, that he almost killed the band in a near collision. He was very fucked up and had many close calls on that ride. Then they arrived at a rest stop in Iowa to eat dinner, Dave got into an ugly argument with tour manager, Mark Whittaker. The band thought that Dave was very unstable, so they agreed to fire him and offer his position to Kirk Hammett(ex-
Exodus
). Kirk caught a plane flight to the East coast, to meet up with the band.
Kirk played his guitar just as fast as Dave, but they felt that Kirk was more dedicated . Because he spent a lot more time practicing than Dave did. Kirk had taken guitar lessons from the famous guitarist,
Joe Satriani
. Kirk and Dave are two of the finest guitarists in the history of thrash metal. It's obvious that this split up has benefited us metal fans. Because we have
Metallica
and we also have
Megadeth
to rock out to.
Hit the Lights
is an introduction to their early style of extreme metal. They were shunned by the Los Angeles crowds who preferred bands like Motley Crue and
Megaforce
. But outside of LA, the crowds went nuts for their music, particularly in Europe. It shreds at a fast tempo, but it's definately not their best song. Though the guitar leads are fast as hell.
The 4 Horsemen is a Dave Mustaine original, it was originally entitled as The Mechanics, for a demo. Although the lyrics and guitar leads have been altered. This song is very melodic with some of the finest guitar playing, that rivals any metal song. This is
One
of the best songs on the album.
Dave Mustaine is also credited with writing some of music on the killer song,
Jump in the Fire
. It's no wonder, because the guitar leads shred so melodically. Guitarist kirk Hammett does a sensational job with this song.
(Anesthesia)-
Hit the Lights
is a bass solo by Cliff Burton. it's very rhythmic and then the tempo increases midway into the song. There are a lot of distortions and effects that are unusual with the bass instrument. Unfortunately Cliff died in a tour bus accident in Sweden, in 1986, where they were touring.
Phantom Lord
is another song which exhibits the brilliant song writing of Dave Mustaine. It's a speedy thrash song with melodic shredding. Kirks guitar licks towards the end of this song sound superior to any guitar work by Eddie
Van Halen
.
No
Remorse
is the best song on this album. Surprisingly, Dave Mustaine didn't write any of this song. It was written by James and Lars. It thrashes with a very rhythmic bass and a guitar lead that would make Jimi Hendrix smile. It's very melodic, yet very explosive.
Seek and Destroy
is a great song. It sounds something like the
Diamond Head
song, Dead Reckoning, but far better. This is
One
of their more popular songs.
Metal
Militia is a very melodic closer for this album. This song writing has some of the work of Dave, once again. It kicks ass , but the lyrical focus of the song is a generic view of heavy metal.
This is
One
of the best thrash metal albums of all time, without a doubt. I don't think that it would be as good as it is without some of the song writing of Dave Mustaine. I'm glad that he was separated from this band. because if that didn't happen, we probably wouldn't have his kickass albums, like
Rust
In Peace. Dave is a great songwriter and he can also handle his vocal presentations in
Megadeth
just as good or better than James does with
Metallica
. Thanks, Dave.
Other productions from Metallica
Other famous albums in Thrash Metal