Jihad
Nu Metal
Otep
Владельцы этого альбома
74
Нет статьи, созданной на русский, показаны статьи из раздела на английском

Обзор @ hack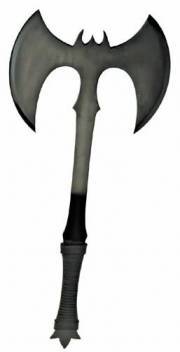 26 Ноябрь 2009
The first time that I had heard of
Otep
, was back in 2004, when they were featured as guests on MTV's Headbangers Ball. I was impressed with their music. So I went to a local record store and this was the only album that was available from this artist. So I bought it and I like it, although it's very short with only 5 songs. But it was also very inexpensive.
This is the debut EP from this Nu
Metal
band from
Los Angeles
. According to Wikipedia,
Otep
was signed without a demo recording, and strictly because of the power of their live performances(after only 4 live shows). Sharon Osbourne was so impressed by the performance of the unsigned band, that she offered them a spot on the 2001 Ozzfest tour.
The vocals of
Otep
Shamaya range between the innocent/sassy style of Debbie Harry(vocalist of Blondie) and the evil sound of a demon possessed woman. She has a bizarre stage presence that reminds me of Annie Lennox, female vocalist of The Eurythmics. Guitarist Rob Patterson is very skilled and his style reminds me of Larry Lalonde from
Primus
. Drummer Brian Wollf is also very skilled and displays a vast array of percussive notes. Bassist "
Evil
" McGuire plays his bass with a very rich sound, that's deep and extremely melodic. His bass sound rivals
Geezer Butler
of
Black Sabbath
.
Possession
is about a witch who dabbles with the occult and becomes possessed by a legion of demons. It's a brutal song with an irony that provides an element of shock. The
Lord
Is My Weapon has a very cool rhythm, that sounds hip enough for play on an FM new rock radio station. But it's too extreme for radio play. The subject matter is also is unfit for radio play or for me to describe on SOM. This is an awesome song.
Germ
sounds more like a bizarre poem recital than a song. Instead of music, there are lots of strange sound effects in the background. Filthee is about the mental hangups that rape victims experience. This song kicks ass, it's brutal, and has a great rhythm. .T.R.I.C. has a hip rhythm similar to
Rage Against The Machine
. It's about the rivalry of nu metal bands.
I think that this is their best album. You can get it for cheap on I-Tunes, but you should probably think twice about buying the song
Germ
.
That
"song" doesn't rock, it's just some filler crap.
Other productions from Otep