Heavy Metal
Chrome Division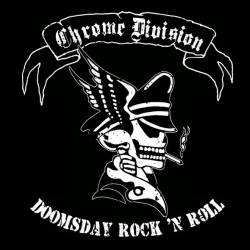 Band Name
Chrome Division
Album Name
Doomsday Rock 'n' Roll
Владельцы этого альбома
72
Tracklist
1.

Doomsday Overture
2.

Serial Killer
3.

Hate
4.

Trouble with the Law
5.

Chrome Division
6.

Here Comes Another One
7.

1st Regiment
8.

Breath Easy
9.

The Angel Falls
10.

Till the Break of Dawn
11.

We Want More
12.

When the Shit Hits the Fan
Нет статьи, созданной на русский, показаны статьи из раздела на английском

Комментарий @ vijikey
Crank up Chrome Division for a guaranteed good ol' time.
This record rocks really hard; you can feel the stench of fresh beer after each cut. Shragath of
Dimmu Borgir
-who handles guitars on this LP- has put out a band consisting of members of other lesser known rock bands to form
Chrome Division
, a band that plays exclusive dirty rock and does it well. A quick obvious reference would be Motorhead, which seems to be one of the main influences here-both music and vocals-wise, but the band offers a little more in terms of totality. This is a really fun rock n roll record that wisely doesn't take itself seriously and takes you back to the old days when rock music was better recognized. So put on your leather jacket, get on your motorcycle and crank up
Chrome Division
for a guaranteed good ol' time.
Source: http://freehardmusic.com/albums/metal/doomsday-rock-%27n-roll_4318.html
Other productions from Chrome Division
Other famous albums in Heavy Metal