Post Hardcore
Affiance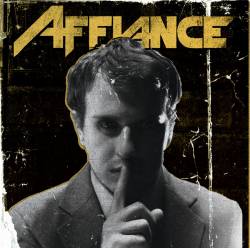 Album Name
No Secret Revealed
Data de lançamento
30 Novembro 2010
Tracklist
1.

Mad As Hell
2.

Call to the Warrior
3.

Nostra Culpa
4.

For Power
5.

A Monster Fed
6.

The Hive
7.

A Reading from the Book of
8.

Der Fuhrer
9.

Dissent!
10.

Calculate and Control
Não existe nenhum artigo em Português, mas estão disponíveis artigos da secção em Inglês.

Comentário @ Extrememetal
The best vocals I think I've ever heard
When I heard this album I was very satisfied. The instrumentals don't stick out much to me but the vocals were drawing me in. His range is incredible and the sound of it is very unique. As for the guitar work it's pretty solid for a metalcore band but doesn't overpower the vocals. There are occasional melodic parts that are attention grabbing. The drum beat pretty much keeps up with the tempo of the guitar. A lot of the time you'll hear the snare which is usually used for breakdowns but they use it a little more than average. The bass does not play a big role what so ever. The back up screams act as a very nice shadowing effect that goes along with the cleans.
There's not really much else to say about the album besides the fact that it's catchy. There is not a lot to it, yet it is very good. They also play a fantastic live show. If you want to check these guys out I suggest Der Fuhrer, Call To The
Warrior
, and The Hive. I give this album a 16/20 just for the jaw dropping vocals.
Other productions from Affiance
Other famous albums in Post Hardcore