SOM has met Henkka Blacksmith, the Children of Bodom bass guitar player, to have a talk about the band's latest album, "The Ugly Tour" in North-America, their upcoming photo album and much more. Check it out!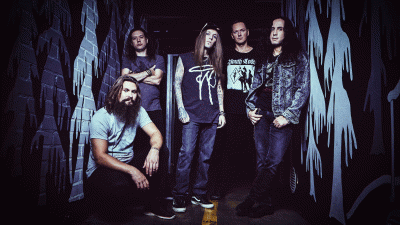 You guys are starting "The Ugly Tour" in North America tonight. What are your expectations?
It's our first tour for this album in the US, it's kind of a big deal actually. It's summertime, it's a tough time to go on tour. There are no expectations, it's just challenging to see how many people are going to show up. [At this point I point out to Henkka the huge line in front of the venue].Yeah… tonight it's going to be sold out.
How were the tours for this album until now (Europe)?
It was really good. There were a lot of good bands and a lot of people. Maybe the best European tour we have ever done. And then we went to Japan and Taiwan and now we came here [US].
So, are you guys satisfied with the tour results so far?
Yes. So far it has been more than good.
Your latest album Relentless Reckless Forever was released a few months ago. How have the reactions been until now?
We are satisfied with the whole album, with the recording, we are really, really happy. And the reviews are very positive, much more positive than before. And then the next thing is to see how many people come to the shows and see if the record is going to sell at all.
Well, so far is really good. We are really happy with the record and the reviews are mostly good, better than the previous ones.
Can you describe the album to the Spirit of Metal readers?
To me, it kind of sums up the whole history of our band. There are a lot of elements from the beginning and also some new stuff. It's kind of a mixture of all the albums, I would say.
Did you guys have something specific that you wanted to pass to the fans with this album? Any specific messages?
No, we usually don't have any messages. We just want to make music always better, and we want to keep ourselves interested on the music, to be totally satisfied, 100% satisfied with the music. This is our main goal.
And then we have to record it as well as possible, try to make it sound as good as possible. That's pretty much the goal that we are living for. Then, we will see how the fans take it. We hope e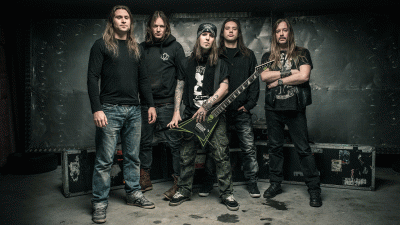 verybody likes it.
You guys have just revealed a new video clip: "Roundtrip to Hell and Back". How was the experience to make this live video? It has received some great comments about its high definition quality.
Well it was very simple, we had no time to record like an "acted" video and we were on tour already. So, we just had to pick up some nice venues and have a photo and film crew there. So we shot it in Helsinki, Tampere and 2 or 3 other cities in Finland during the European tour. And then they added some other stuff [if you watch this video, you will see that it contains some images that are not of the band on stage]. Nothing special, it was a very simple procedure, but it turned out really, really nice.
When you do something like that, do you announce to the public that you will be shooting a video clip during the concert ahead of time? Do you have to have a special venue for the recording?
Of course the venue has to be a proper one, it has to have enough space between the stage and the audience. There are no special requirements other than that. So, we didn't announce it in advance.
What about your photo book? Are you guys shooting pictures for it during this tour also?
Yeah, today, but not actually at the "House of Blues" [House of Blues was the venue of the concert]. We are going to have the photographer shooting pictures during the tour, until Vancouver [June 28th, 2011].
What can the fans expect from this photo album?
Some material… really nice photographs from backstage. Not like the normal press shoots. It will be about the whole "tour life", from the morning until the evening, what happens…
Who came up with the idea?
It was us and the photographer we have been working with. I have always liked photo books, it is nice to have one. We had been discussing it, what kind of photos it would have… it's pretty simple. And finally, we are doing it.
Talking about the rest of the year… besides the release of the photo book and the North American tour, what do you guys have planned?
We have a couple of festivals,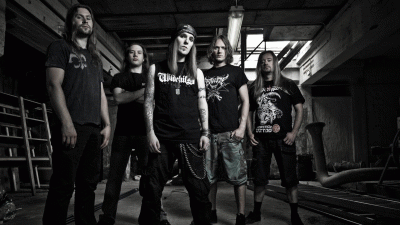 then we will do Russia and Ukraine. And then, hopefully we will do South America and Southeast Asia. And then, we will be back to US, hopefully in January.
Really?? Humm… are you guys going to 70000 tons of metal?
I haven't heard any news about it. It would be nice though.
Now a little bit about your personal life… what is the day-to-day of Henkka when you are not with the band?
I try to do my studies, try to finish my Masters Degree. I play soccer, I hang out with my friends and family…
So, what are you studying?
Political history… it's been a long process of 10 years (laughs).
About the metal scene…any favorite albums this year?
This year, of course the new "Amorphis". We just toured with them in Japan, it was really nice to see them live. It's a really good band. I'm also really looking forward to the new Anthrax album, with Joe Belladonna.
What are your favorite places to travel (personal and with the band)?
This time, my favorite place to go travel is Morocco and all the northern African countries in general. My favorite places to play, probably… I really love Southern and Eastern Europe. The fans are really crazy. South America is always good too.
There are so many places...
Final question: you guys have accomplished so much with the band. What is still out there for COB to achieve?
There is always [more]… The biggest dream for me would be to keep doing how we are doing now: enjoying touring and making music that we are satisfied with. That is going to be challenging to keep it on for a long time, you know? We are already surprised that we have already made it this far.
In the matter of figures or this kind of stuff I don't know… Of course it would be nice going world touring with Metallica or a big band like them. Or course… I think that's a dream for everybody.
Anything you would like to say to the reader of SOM?
We are very happy to come back on tour, especially here. And we hope to see as many people in the shows as possible.
>