Speed Heavy
Rage (GER)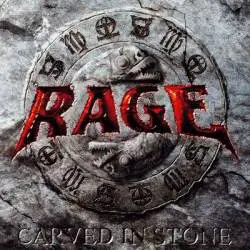 Album Name
Carved in Stone
Zarejestrowanych posiada ten album
129
Tracklist
1.

Carved in Stone

05:21

2.

Drop Dead !

04:13

3.

Gentle Murders

04:12

4.

Open My Grave

04:41

5.

Without You

05:45

6.

Long Hard Road

04:37

7.

One Step Ahead

05:05

8.

Lost in the Void

04:14

9.

Mouth of Greed

03:56

10.

Lord of the Flies

05:45

DVD - LIMITED EDITION

1.

Lord of the Flies (Clip)

2.

Open My Grave (Clip)
Recorded live at Wacken 2007

3.

Overture

4.

From the Cradle to the Grave

5.

Alive But Dead

6.

Lingua Mortis Medley

7.

Turm the Page

8.

Suite Lingua Mortis

9.

Higher Than the Sky

Total playing time

47:49
Brak artykułów w języku Polskim.
Artykuły w języku angielskim są wyświetlone.

Artykuł @ Vinrock666

03 Kwiecień 2009
Rage
's 2008 LP "
Carved
in
Stone
" is a flag bearer to the sound and fury of classic power metal. The strength of this album is in the band's execution and resolve in delivering a typically narrow style of music, for not only are these songs simple, stock, and straightforward, they are also unoriginal and short on creativity. The singular exception is the last track, "
Lord
Of The Flies". The orchestral and choir arrangement in both the introduction and last movement is very cool and complimentary to the heavier parts of the song. Throughout the rest of the album, however, the most creative output is found during the various solos by guitarist
Victor Smolski
. Every one of them is impressive and masterful. One of the best songs, "Open My Grave" starts out with a sitar that no doubt is placed to match the track's Egyptian theme. Another very good song, "Gentle Murders" sports a fast fretting bass introduction; one of the very few times that the bass is highlighted. The best song may be "Without you"; a vaguely lyrical piece with the feel of a ballad due to its melodic chorus, but with a much dirtier guitar riff behind the verses. The rest of the album's songs are delivered straight from the power metal processing plant: these ingredients include fast riffing, mid-range power vocals, and chorus hooks. One strange aspect of the album comes from the lyrics, especially the first four tracks. There is a somber and dark social consciousness presented in all of the themes. Coupled with the very light and happy sounds of their music, the result feels nonsensical. Had this been a conscious choice of
Rage
to pair up light music to dark themes by way of satire, "
Carved
in
Stone
" may have turned out to be a more relevant accomplishment. As it stands now, it is not. For those who could care less about direction and more about feeling nostalgic over hard rock and metal riffs once upon a decade dominant,
Rage
's "
Carved
in
Stone
" will definitely satiate your appetite.
Other productions from Rage (GER)
Other famous albums in Speed Heavy