Metal Symphonique
Battlelore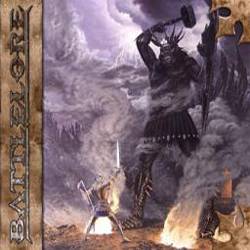 Nom de l'album
Where the Shadows Lie
Membres possèdant cet album
111
Tracklist
1.

Swordmaster
2.

The Grey Wizard
3.

Raging Goblin
4.

Journey to Undying Lands
5.

Shadowgate
6.

Fangorn
7.

The Green Maid
8.

Khazad-Dûm Pt.1 (Ages of Mithril)
9.

Ride with the Dragons
Bonustrack
10.

Feast for the Wanderer
Commentaire @ Katla
04 Octobre 2007
Ce tout premier album révèle d'ors et déjà l'identité et le potentiel du groupe
One Ring to rule them all, One Ring to find them,
One Ring to bring them all and in the darkness bind them
In the Land of
Mordor
Where the Shadows Lie
.
Battlelore
, né il-y à déjà huit ans au moment ou j'écris cette chronique est un groupe très prolifique dont
Where the Shadows Lie
est le premier album (paru en 2002). Et l'on peut dire que cet album est une véritable réussite car il nous montre que dès leur premier album, le groupe à su trouver son propre style que personne d'autre qu'eux ne peut faire. Si leurs univers ainsi que leurs paroles sont très fortement inspirés par l'Oeuvre de monsieur John Ronald Reuel Tolkien, vous ne devez pas pour autant les comparer au duo autrichien de
Summoning
(les maîtres du tolkien metal) ! Pourquoi ? Tout simplement parce que ces deux groupes très disctint évolue chacun dans un style très différent.
Les petits jeunes de
Battlelore
en sont déjà à leur quatrième album aujourd'hui et je trouve dommage que personne ne se donne la peine de donner ne serait-ce que son avis sur un des albums de ce groupe. Enfin passons.
Ce tout premier album révèle d'ors et déjà l'identité et le potentiel du groupe, tout y est, des mélodies épiques jusqu'au duo elfe et orc. Si leur style a évolué au fil de leurs différents albums, ce premier est assez varié et offre un moment agréable de 47 minutes au cours desquelles vous ne vous ennuyez pas. Je ne ferais pas de titre par titre mais sachez que, malgré des titres comme
Fangorn
dont les voix trop arrangées rendent des sons plutôt désagréables par moments, ce premier album se trouve être globalement très bon.
Autres productions de Battlelore
Autres albums populaires en Metal Symphonique