Black Death Symphonique
Hollenthon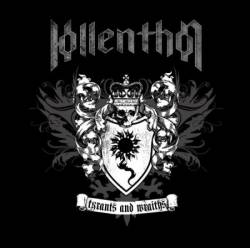 Nom de l'album
Tyrants and Wraiths
Date de parution
30 Octobre 2009
Membres possèdant cet album
23
Tracklist
1.

Tyrants and Wraiths
2.

Innocent Sin
3.

Deathly Dirges
4.

Of Hollow Men
Bonus Video Live at Graspop 2008:
5.

Wings of a Dove
6.

Ars Moriendi
Aucun article trouvé en Français, les articles de la section anglaise sont affichés.

Chronique @ Nastasia

01 Fevrier 2010
As if not wanting to repeat a long pause between albums as before their last album
Opus Magnum
, the Austrians released an EP
Tyrants and Wraiths
in October 2009. What a praiseworthy move it would be if the EP wasn't a little bit of disappointment. Not because these guys did a bad job, just because the songs a little miss something that makes you remember them.
I must admit I like the band itself very much therefore I was anticipating something better. The band has always been melodic with many classic influences and tunes but this time it appeals to me as if they were trying way too hard.
In this case I must say that less is sometimes more and the orchestral elements which by itself are great could appear in the songs maybe a little less often. The band has always had a certain order in their creations. Until now.
The lyrics are still in the same spirit as
Opus Magnum
- darkness, battles, unknown, chaos. But chaos somehow also sublimed into the melodies as well.
The beginning of the main track
Tyrants and Wraiths
is very good but by time it becomes more and more random. Even despite a very good guitar solo and many effective elements like chorals and pauses it appeals very constrainedly.
Innocent
Sin
is very fast and heavy as the first song and it appeals a little better but everything is all over again. Too many random sounds, too many changes which don't really tie to another. I must admit some parts are ingenious but it can't outweigh the rest which is much more mediocre.
After all the random changes in the song you don't even realize that the following one, Deathly
Dirges
, actually already came. It's slightly difficult to tell what song is the best since all of them seem all alike. It's a pity for the band with such a great potential which
Hollenthon
really is. Anyway, this track showed to me a slightly different side of the band's creations. The moving of the style is quite hearable but still I must question myself if it is towards a change that is good or bad.
Of Hollow Men is personally my favourite of the four tracks. In surrounding of growl the clean voice can sound epic even despite all the imperfections. Melodically the song ties to the rest, but with curtailment of most of the growling it gets a tinge of simplicity and smoothness and in general it sticks out.
What really pleased me were the two footages from the Graspop
Metal
Meeting 2008 showing the true atmosphere of the concerts of the band that you can feel. The quality is great, the sound authentic and the show anything but boring.
In any case, the EP held my interest and made me look forward to the new album even more than before as well as made me prepared for a potential disappointment. Anyway, no one should judge the main meal from hors-d' oeuvre and I'll be certainly expectant to hear what will accompany these four tracks.
Autres productions de Hollenthon
Autres albums populaires en Black Death Symphonique