Metal Symphonique
Trans-Siberian Orchestra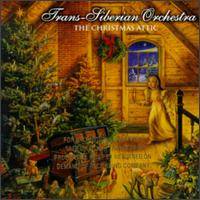 Nom du groupe
Trans-Siberian Orchestra
Nom de l'album
The Christmas Attic
Date de parution
13 Octobre 1998
Membres possèdant cet album
34
Tracklist
1.

The Ghosts of Christmas Eve

02:15

2.

Boughs of Holly

04:25

3.

The World That She Sees

05:59

4.

Midnight Christmas Eve

04:22

5.

The March of the Kings / Hark the Herald Angel

03:52

6.

The Three Kings and I (What Really Happened)

06:29

7.

Christmas Canon

04:19

8.

Joy / Angels We Have Heard on High

03:56

9.

Find Our Way Home

03:46

10.

Appalachian Snowfall

04:12

11.

The Music Box

03:01

12.

The Snow Came Down

05:43

13.

Christmas in the Air

04:13

14.

Dream Child (a Christmas Dream)

07:05

15.

An Angel's Share

03:05

16.

Music Box Blues

04:56

Total playing time

1:11:38
Commentaire @ DothyTrunks
Alors, nous y voilà. Second album de Trans Siberian Orchestra (TSO, restons intimes !). Une suite au premier album, assez grandiose dans son genre (surtout à l'époque), suite que l'on pouvait s'attendre à être au moins "meilleure" que le premier opus…
Et bien, malgré les deux années qui séparent ces deux sorties, il faut croire que TSO ne cherche pas à aller au-delà de ce qu'ils ont déjà prouvé.
Du coup, si vous possédiez déjà "Christmas Eve & other stories", pas la peine de vous procurer
The Christmas Attic
, car il s'agit bien franchement de la même chose.
Oui, TSO c'est du fort, du lourd, du métal accordé aux sons de superbes orchestres symphoniques (auxquels s'ajoutent les choeurs d'enfants… oui, ce sont vos éternelles ballades de Noël). Mais voilà, du coup, après deux ans, ils sortent une suite aussi bonne que le premier opus mais pas meilleure. Juste la même chose. Aucun renouveau, ils sont fidèles à ce qu'ils font de mieux.
Donc ce second album est à conseiller en combinaison avec le premier, car ils sont franchement équivalents.
Alors oui,
The Ghosts of Christmas Eve
introduit bien l'album avec des sons impressionnants, puis les mélodies s'accordent à merveille sur The March Of The
Kings
/ Hark The Herald
Angel
ou encore la surprenante Appalachian Snowfall.
Mais bien franchement ce second album n'est qu'une pale copie du premier, moins l'extraordinaire titre Sarajevo 12/24 (Carol of the Bells). Donc finalement, je vous conseillerai de vous en reporter au premier album de TSO et d'en rester là, pour passer directement à
Beethoven's Last Night
…
A écouter uniquement si vous recherchez plus de mélodies et ballades que sur le premier album qui était bien plus métal…
Autres productions de Trans-Siberian Orchestra
Autres albums populaires en Metal Symphonique