Metal Symphonique
Trans-Siberian Orchestra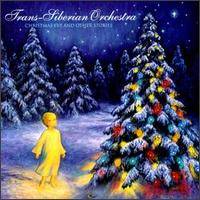 Nom du groupe
Trans-Siberian Orchestra
Nom de l'album
Christmas Eve and Other Stories
Date de parution
15 Octobre 1996
Membres possèdant cet album
38
Tracklist
1.

An Angel Came Down

03:52

2.

O Come All Ye Faithful /O Holy Night

04:19

3.

A Star to Follow

03:49

4.

First Snow

03:53

5.

The Silent Nutcracker

02:22

6.

A Mad Russian's Christmas

04:43

7.

The Prince of Peace

03:33

8.

Christmas Eve / Sarajevo 12/24

03:25

9.

Good King Joy

06:36

10.

Ornament

03:37

11.

The First Noel

00:55

12.

Old City Bar

06:18

13.

Promises to Keep

02:41

14.

This Christmas Day

04:20

15.

An Angel Returned

03:53

16.

O Holy Night

02:39

17.

God Rest Ye Merry Gentlemen

01:16

Total playing time

1:03:11
Chronique @ DothyTrunks
Trans-Siberian Orchestra
. Rien qu'au nom du groupe, on sent déjà le potentiel.
Oui, on a fait du metal symphonique et du metal opéra.
Oui, on sait mélanger la musique la plus "hard" du monde à du lyrique, du symphonique... et du classique.
Et bien,
Trans-Siberian Orchestra
(TSO pour les intimes) entre bien dans cette catégorie. Mais ils auraient pu le faire de façon légendaire ! Je m'explique :
1996, leur premier album, est déjà une idée de génie. Le metal s'offre les plus belles ballades de Noël, démonte les plus grands choeurs et les mélodieuses harmonies de Noël, pour leur offrir un nouveau souffle. Ah oui ? drôle de défi car TSO va choisir de le faire avec brio.
Un album grandiose, truffé d'orchestrations géniales sur vos chants de Noël préférés. O Come All Ye Faithful/O Holy
Night
rejoint sans problème les rangs du grand symphonique, au même titre que This Christmas Day et The First Noel. Croyez-moi, les violons et contrebasses s'accordent à merveille aux lourdes guitares électriques du groupe et aux douces voix de choeurs d'enfants.
Et là vient le plus gros titre de TSO selon moi : Christmas Eve / Sarajevo 12/24
Ce titre est généralement plus connu sous le nom de Carol of the Bells. Oui oui, vous savez ce si mélodieux canon de Noël si difficile à interpréter (merry merry merry merry christmas). Et bien nous voici face à une version si épique, si metal, si symphonique, si puissante que ce titre propulse sans hésitation TSO au rang de VRAI groupe de metal symphonique selon moi.
Mais à vrai dire il n'en reste pas moins que mis à part CE titre qui ne prend aucune ride, il faut reconnaitre que le chant et les guitares de cette époque paraissent vieillis en les écoutant aujourd'hui.
Du coup, l'album est excellent et ajoute même une touche de nostalgie à tout cela : le son de TSO nous rappelle indubitablement
Megadeth
, et même parfois les débuts de
Sonata Arctica
. Il n'empêche que le défi est quand même réussi, et j'ajouterai même qu'une incroyable vidéo a été tournée en clip complet de l'album.
Bref, un album bien unique dans son genre, très narratif et un clip géant de 45min à la clef pour couronner le tout. Même si le tout a pris quelques rides, on ne se lasse pas à chaque noël de ressortir l'album, pour fêter chaque année cela de façon un peu plus épique.
A écouter car absolument unique.
Autres productions de Trans-Siberian Orchestra
Autres albums populaires en Metal Symphonique