Metal Symphonique
Haggard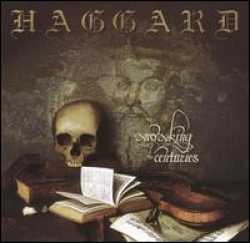 Nom de l'album
Awaking the Centuries
Date de parution
07 Fevrier 2000
Membres possèdant cet album
169
Tracklist
1.

Intro / Rachmaninov : Choir

00:38

2.

Intro / Pestilencia

01:54

3.

Chapter I / Heavenly Damnation

02:59

4.

Chapter II / the Final Victory

03:35

5.

Chapter II / Saltorella la Manuelina

00:57

6.

Chapter III / Awaking the Centuries

09:34

7.

Chapter III / Statement zur Lage der Musica

01:19

8.

Chapter IV / in a Fullmoon Procession

05:18

9.

Chapter IV / Menuett

01:19

10.

Chapter V / (Part I) Prophecy Fulfilled / (Part II) and the Dark Night Entered

06:23

11.

Chapter V / Courante

01:10

12.

Chapter V / Rachmaninov : Choir

02:34

Total playing time

37:40
Commentaire @ Enthuan
Awaking the Centuries
, deuxième album du groupe allemand
Haggard
est mon premier pas dans le genre musical Black/Heavy Symphonique. Et j'avoue que ce fut une révélation... Après deux pistes d'intro, où l'on est plongé dans l'ambiance Moyen Âge / Renaissance (chœur et dialogue en latin annonçant la peste), on s'imprègne des instruments classiques qui peuplent l'album (clavecin, violons, hautbois, clarinettes... ) rythmés par des riffs lourds et la voix très axée Black
Metal
d'Asis, le chanteur/guitariste (
Heavenly
Damnation
,
Awaking the Centuries
).
Entre deux phrasés "bourrins" on se laisse envoûter par les voix des chanteuses (Alto et Soprano) et par des passages instrumentaux (The Final Vitory, In A Fullmoon
Procession
). On est alors guidé au fil des morceaux en parcourant un album riche et fin mais qui ravira les amateurs de musique plus agressive.
Awaking the Centuries
, le morceau qui donne son nom à l'album, est une merveille, qui rassemble tout ce que les fans du genre vont adorer, s'ils n'ont pas peur des quelques 9 minutes d'écoute qui peuvent lasser certains.
Le métissage de styles rend la musique à la fois originale et agréable malgré la voix thrash, mais pour ne pas glorifier cet album, je dirai que la présence des passages instrumentaux investit trop l'ensemble ce qui vaudra aux fervents thrashers ou aux néophytes du genre musical une lassitude, voire un ennui assez rapide. En conclusion, un album assez méconnu, qui vaut le détour pour les fans avertis de musique classique, de Black
Metal
voire des deux...
Autres productions de Haggard
Autres albums populaires en Metal Symphonique