Alternative Metal
Soul Sanctuary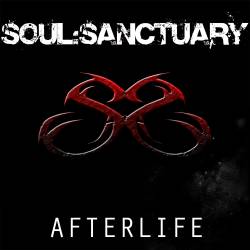 Data de aparición
31 Agosto 2009
Miembros poseen este álbum
4
Tracklist
1.

Afterlife

05:28

2.

Game of Conviction

03:07

3.

Destiny

04:00

4.

Killing Time

04:14

5.

Packaged to Sell

04:19

6.

Reflections

05:00

7.

Scars of You

03:51

8.

Cauterized

04:12

9.

Zeitgeist

04:06

10.

Gone Away

03:43

11.

Heart Attack

05:00

Total playing time

47:00
Ningun artículo encontrado en Español, los artículos de la sección inglesa son fijados.

Crónica @ Nastasia

19 Marzo 2010
When some band is referred to play "alternative metal" it's very difficult to clearly and exactly imagine what music they are trying to play. Anyway, in case of Soul Sanctuary, whatever they were trying to create, the album
Afterlife
is an exclusive piece of an amazing quality.
Even though a combination of growl and clear vocals and pissed off lyrics about how this world and our lives are fucked up is an old well proven way to get a listenable album, it's not a rule that you always get a successful and a good-class record. Luckily, in this case, everything worked out in the best way it could!
Despite the fact that the scheme of some of the songs is almost identical which may be tiring for some listeners, there is no chance that the songs will blend in one since each and every one of them has a new, original charge.
The album starts away right with the title track
Afterlife
. A variation of striking parts and more melodic clearly sand passages is typical for this song as well as for the whole album. And the guitar solo, which is very good by the way, is not missing too. All together, the starting track destroys all the doubts you could have before turning the album on. And what's more, it is getting better and better.
Except of the backing screams, Game of Conviction as a whole clearly sang track. A very catchy riffs and lyrics continuing in the same sceptic mood make you enjoy the whole pissed off spirit. The following
Destiny
is more melodic yet very energetic and with a slight rock'n'roll sparkle heard just in the beginning and few riffs during the song. Doubling the vocals in the right moments is another minuteness that makes a good experience of the enjoying the album.
Killing Time is a track which takes the all aggression that the previous ones could miss and concentrates it in itself. Getting back to the growling-strophes/clean-refrains pattern doesn't do any harm especially since some of the parts are deepened and darkened and the others groovier.
With a beginning as a message on an answering machine comes Packaged to Sell which still keeps on the same formula as the tracks before whereas the next song slightly stands out. From the acoustic, mellow beginning the song is gradating step by step and shows practically the range of the rapidity of the band. But it would be a mistake to await the same from the following track Scars of You which may mystify by its slow push off but in general is quite striking.
Cauterized
is a very catchy piece of work and has everything to come into the awareness of the wider sphere of awareness of listeners. Zeitgeist jumps from mild tunes to storming beats all over again and doesn't let you get bored. Gone Away seems to be more as if smoothed and rock sounding and framed that the rest of the album and it definitely works well. Officially last track is
Heart
Attack
and it makes a nice finish of the album.
But why "officially"? I'm not sure whether it is a purpose or a lag (which I would be thankful for) but you can notice that instead of eleven tracks as written on the booklet there are thirteen. So if you think that the album already officially finished, you can wait and approximately after thirteen minutes, a surprise waits for you.
If you want to know, that the surprise is, all I can advise you is to buy the album, which would be definitely NOT a waste of money.
Other productions from Soul Sanctuary
Other famous albums in Alternative Metal