Interview de PoisonBlack made the 1st October 2006 by Ystävälle before the show at Théâtre Barbey with Ville Laihiala, Antti Rennes and Janne Markus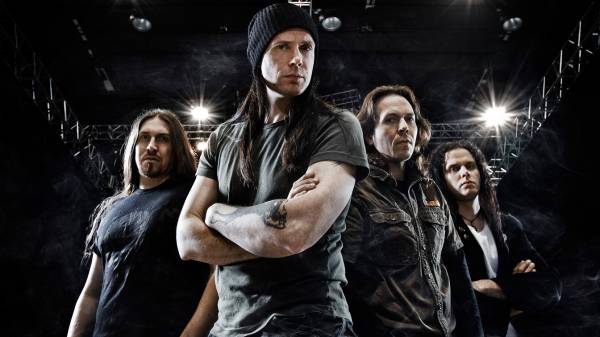 Hello
Ville: Hello
How is your tour going on this year, since you've made your first show?
Ville: It's great, 'cause we have a long tour with Lacuna Coil, and we can discover several big cities with a lot of people, and it goes better and better show after show. We are longer known as a band.
About your second album "Lust Stained Despair: is it the following of "Escapextasy", or is it different?
Ville: The main idea was the same as the first album except for maybe some pieces, because most of feelings are more realistic. So, the music is a little bit more 'heavy' with more tempos.
In which terms did you record this second opus? Did it take a lot of time?
Ville: The writing of texts and recording didn't really take a lot of time, but when the album had been recorded, mixed and mastered, we met some problems because the mix hasn't worked so well and the song that we worked after that hasn't been recorded. Finally, we have taken 4 months to make everything.
Wasn't it too hard to play guitar and to sing at the same time?
Ville: not really, because I've been accustoming to process like that for 15 years
What are the things or kind of persons that give you inspiration to compose?
Ville: It's simply everything that happens all around my life, the way I see the things and all that they make me feel. Then, everything is anchored in my mind and come back out in the shape of music. There is no place or person that inspires me in particular. I thing that it's all of this that make me compose. The whole ideas come, I suppose, from my childhood. The first metal band I have loved was Metallica. I wanted, and I felt, the need of playing guitar, and now it's like a temple that surrounds me, a poetry dedicated to music.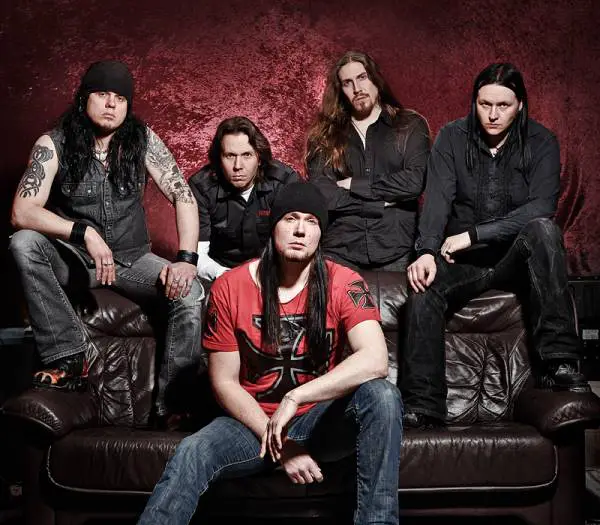 >The guitar seems to be more 'heavy' on this record, don't you think that some people could compare Poisonblack's music to Sentenced's one?
Ville: Thinking of comparing the two sorts of music isn't for only one person… because the main reason of 'why do I make music' is not for people at the beginning but for us. It can seem rough, but it's simply my opinion, it's just the road where you can keep it for yourself, and you can stay in a style… Very fun. No, seriously, there are some elements that can remind people of Sentenced because I've spent 10 years of my life to make music with those guys, and now it's finished in a sense, but I can't erase 10 years so easily and I don't want it. Maybe, at some moments, influences have an effect on our music; all the same we try to create something different.
What does the woman on the sleeve of this second album represent, compared to the first album?
Ville: Most of lyrics are described in the shape of a woman or, for the woman, and probably I see the woman on the sleeve who comes as a woman child, this power of seduction that is here, because it's like a shot that we would like taking… You never know what you will get when you make business with women.
Why did you film the video of "rush" in wild Nature, I mean near a lake and a forest?
Ville: It was more an idea of the director of grip of view, and then he captured the same sort of picture, that are in the sleeve of the album, with his camera. So, it was the reason to film that at the heart of nature, because this idea recalls this photo that we can see in the CD.
Is Nature something important for Finnish people?
Ville: Nature? Yes, of course… We are surrounded by Nature.
Why do you shoot again with Lacuna Coil?
Ville: I don't know (laugh), those ***** of ***** :-) No… hon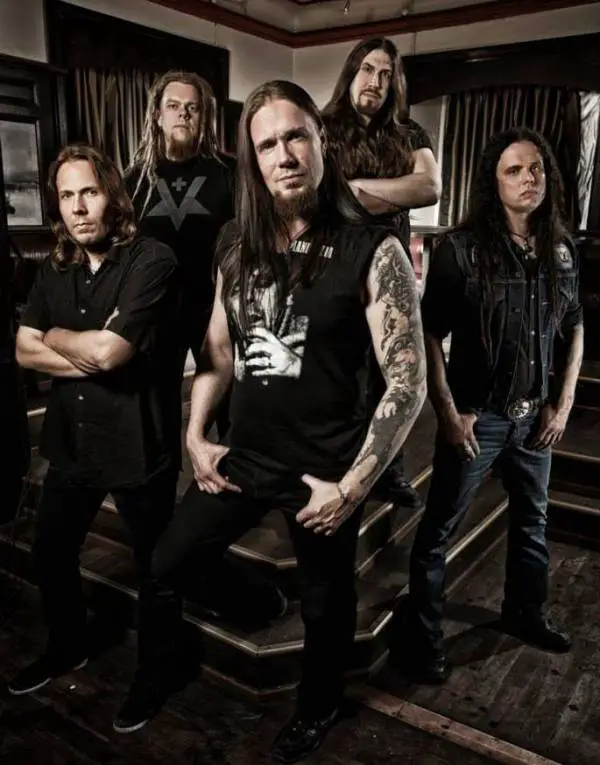 estly, when we heard that we could have the chance to make a tour with these friends, it was a very good news, because for us, it's was a big opportunity to play on stage and meet a lot of people. This is why, and musically too, it has longer impact than for instance, we made a tour with Impaled Nazarene…
For you, what do the two new members of the band bring to this new album? Some new blood?
Ville: Yes. Personally, I gain so muck energy from these new guys cause they are my friends. When I fell like hide under a table, and joking on several things, they still are speaking of a**. Moreover, this band is robust now. We are very close and we are growing as a band day after day. (Sudden intervention of Antti :) We come from a little town called Oulu. We all are united and friend, that is the reason. We are a rock band! :-)
Does every musician of the band compose?
Ville: On this record, the most of the music have been written by me, but in the future, it will be with the other members. Janne has already composed new materials, so it won't be only me anymore. It's great, because he has a vision a little bit different from mine to compose music.
What is your favourite band?
Ville: Now, Motörhead. (Intervention of Janne :) I would say it's Kiss.
What would your top 5 be, if you had to choose some bands?
Ville: Kiss, Metallica, Wasp, Slayer, System of a Down. Janne: The same thing for me.
What would you like to say to your French fans now?
Ville: Simply to come to see us playing on stage, and hoping that you are enough interested to buy the Cd, to have a great time with our music and to find in it something. Keep on rage! ;-)
Thank you :-)
Ville, Antti and Janne: Thank you. :-) English translation by Alexiel.