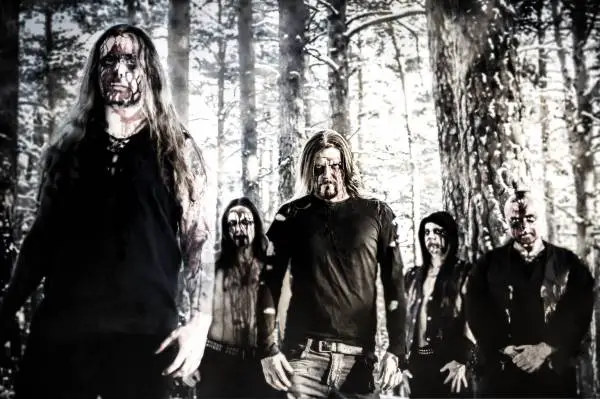 Answered by Marko Tarvonen

1. « Hyvää päivää » ! Thank you very much for this interview. First, can you introduce yourself to our readers and tell them what kind of music you are playing ?
- We are Finnish pagan metal band with folk music elements as well as some progressive. The line up is: Ville Sorvali – bass & lead vocals, Henri Sorvali: guitar, keyboards, accordion, vocals, Marko Tarvonen: drums & percussion, additional guitars, vocals, Mitja Harvilahti: lead guitar & vocals, Markus Eurén: keyboards.

2. Your new album « Verisäkeet » is out this month, could you describe it ?
- It's like a combination of new and old Moonsorrow sound. I see it like one step forward and two steps backward. More back to roots. Verisäkeet is more guitar orientated album than the previous ones although it's not even close to guitar heroism whatsoever. Of course we've used more traditional instruments on the new album such as kantele, jouhikko, different kinds of whistles, accordion. We really tried to change a part of progression to aggression this time. It's harsh, it's grim, it's ugly but beautiful in the same time. We managed to continue our path interesting way: aggressively.

3. Are you totally satisfied with it or is there anything you would change ?
- No I wouldn't change anything. It's perfect.

4. Who is responsible for the music and the lyrics ? Is it divided among the members of the band ?
- Henri and I wrote most of the music. It's been like that for some time. I don't know why is it only two of us who write the music. Ville did some riffs for Verisäkeet too and Mitja did some leads. We arrange the songs together.

5. The length of the songs is very impressive ! Any reason for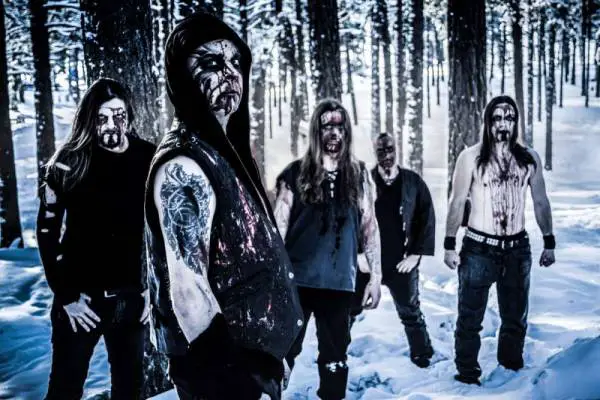 that ?
- We really cannot do shorter songs anymore. It all comes so naturally. Every part on our songs have a very meaning for us. Though many people might critisise us being too repetitive, we don't care. We do this for ourselves and if someone likes it I'll be glad. So yes I think it's kind of trademark.

6. I found this album darker than « Kivenkantaja » or « Suden Uni ». Are you agree ?
- Yes it's the most "evil" Moonsorrow record so far I think. Very aggressive sounds but still very organic I'd say.

7. I really love the last and original track « Kaiku »... Which track do you prefer and why ?
- Oh you do! Thanks! I wasn't sure at the beginning whether to include that song on the album or not. I'm glad people seem to like it a lot. My favorite is at the moment Jotunheim because of it's melancholic feeling. And it's same time quite groovy somehow.

8. What are your main inspirations ? I read somewhere you were fans of Morricone and Iron Maiden...
- Well I'm fan of both but I don't think they've influenced Moonsorrow at all. Nature has had always a big inspirational source for us and so it is this time. We included some real nature sounds from Finland such as birds, flies, wind and thunder to add a special effect on the songs. Also our cultural heritage is a great influence. National romantic pagan metal so to say. As for the bands, Bathory, Enslaved, Borknagar….. 1992-1993 Scandinavian metal in general is what we used to listen when we were young so I guess the influences always come from there.

9. So, you are playing pagan/heathen metal... What does mean « paganism » for you ? Can it be a real way of life nowadays and how ?
- I'm not religious person at all. We in the band however s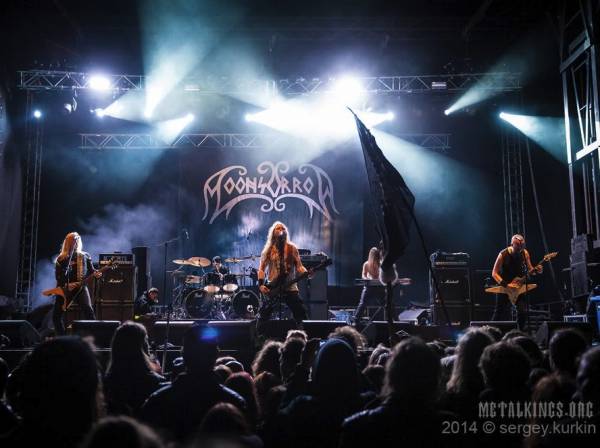 ee these things the same way. Everybody in the band are anti-christian and some of us are more interested in pagan beliefs. It's more a source for lyrics. At first (on the demos) it was very straight-in-your-face type of thing we did. Because everybody's been young so were we and it shows in our lyrics. Nowadays our lyrics are more genuine poetry than some childish Christian slaughter. People grow up and learn different things and the natural development is very healthy if you know what I mean.

10. What do you think of the finnish metal scene ?
- Sales are stronger than ever. More originality is needed. Every second shitty power/gothic band gets record deal. Well, I don't listen to Finnish bands so much so I cannot tell you much of our metal scene.
11. Do the members of the band participate in others projects or bands ?
- I play the guitar in Chaosbreed, which is death metal and I also play the drums for band called The Wicked. It's industrial, symphonic, extreme and sometimes even funny, very weird metal. Check it out from Spinefarm. Well Henri is doing music for Finntroll still but not touring anymore because lack of time and interest. Mitja plays also in black/death metal band called Shadow Cut. They just released their debut album on Firebox Records.

12. What are your touring plans in 2005 ? Will you come in France ?
- None at the moment. I'd love to play there. We've done many interviews to France so I think people know us there and it would be possible to do some shows there. Push your local promoters and cross your fingers!

13. Do you have any wishes for the future ?
- I'd like to tour and record so much that I could quit my day job.

14. « Kiitos paljon » for your time and this great album ! Last words are yours !
- Thanks, greets & mosh!

>