The Swiss folk metal band Eluveitie has just released a new album called Helvetios. They have also toured the US, supporting Children of Bodom. During this tour, SOM sat down with the lead singer Chrigel Glanzmann to talk about this new work, the band's plan for 2012 and much more. Check it out!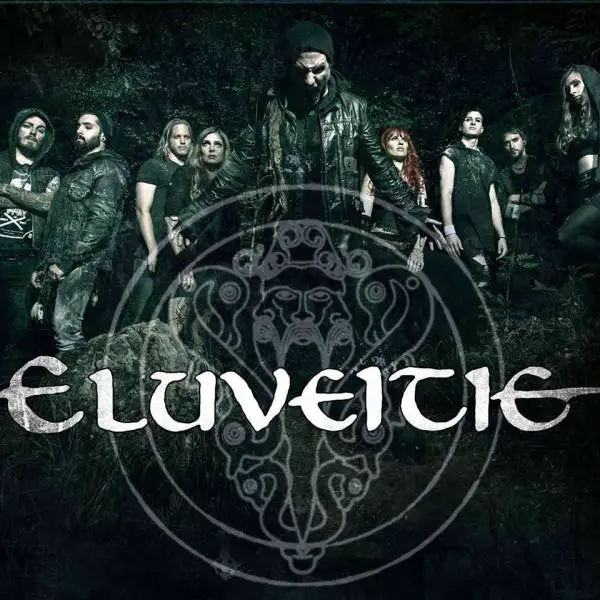 First of all, thank you for the interview! How have you guys been enjoying the North American tour so far?
It is treating us quite well. It is a little bit of an experimental tour for all the bands [Children of Bodom, Eluveitie, Revocation and Threat Signal] because the tour basically leads us thru states [in the US] where there aren't usually very many metal shows. It is kind of cool and an interesting experience.
Have these concerts been full?
More or less actually, yeah!
This tour has actually started on 70000 tons of metal, when you and Children of Bodom played there. How was the experience?
For me personally it was awesome, because I slept almost the whole time. We had quite a rough time before that, with the album production. I had a huge lack of sleep. On the boat it was the first time that I just had some spare time. On the days that we didn't play I basically slept all day. So, it was awesome.
Speaking for the band, the shows were cool. I think it was something quite cool, I enjoyed it.
Last time I saw you, you were touring North America as headliners, after the release of "Everything Remains as It Never Was". Now you have a new album out (Helvetios) and touring here again. How have you guys been in between these two North American tours?
Quite busy, we toured a lot. Actually that was pretty much what we were doing, we were playing everywhere and all the time, besides of course the time we were producing our upcoming album. I think it was a good year.
As I said before, you headlined the tour last time you were in North America. Are there any specific reasons why you decide to come as an opening act this time?
Yeah, we actually had a decision to make: do a regular headline tour or jump on this tour supporting Children of Bodom. We decided to jump on this tour exactly because of the routine. I mean, this tour took us to places where we never played before, and we think that is a good thing.
You have just released you newest album "Helvetios". Could you say a few words about this new work?
Yeah, this is our first concept
album, with a continuing story throughout the album. It tells the story of the Gaulish wars.
I think it is a little different than everything else we have done before, due to the fact that it is a concept album. It is almost, a little bit, like a movie soundtrack or something [like that], you know? All the songs are linked together; there are some quite "epic" moments, it is the first time that we worked with orchestrations, choirs and stuff like that.
You have released a video clip for the song "A Rose for Epona". What were the main inspirations for this video? Why did you guys choose that song?
Why we chose that song? I don't know, we just thought that it was a cool song for shooting a video clip.
About the story: it basically just expresses the content of the lyrics. Actually, in the video clip and on the lyrics there is not much of a story. The lyrics are something like a prayer to that Celtic goddess, called Epona. In theory, the person singing is kind of accusing her goddess. It is just a song expressing the sorrow of that time. We tried to express that "atmosphere" or "emotions" on the video clip.
We shot it right after our last tour, in November. We worked with Grupa13 from Poland again. It was shot in Poland and it was fucking cold! It was terrible. We suffered a lot because it was in the middle of fucking nowhere. We were outside with nowhere to go to (no buildings, or heated room). We started around 11am and finished around 10pm. We were basically shooting all day without too many breaks. Of course, we were shooting like this (Chrigel shows his clothing: jeans and a long sleeve t-shirt/sweater), we couldn't wear thick jackets because it wouldn't look nice, you know? It was between -10̊ C to -15̊ C (5 to 14̊ F) and it was windy. We were freezing.
Anna [Murphy] was completely drunk. After two hours of shooting outside, she told the crew: "I can't do this anymore, it is too cold!". They asked her if they could help her in anyway and she said: "yeah, bring me a bottle of gin!". Than, she just drank the whole bottle. It helped her, it makes you warm and you forget the cold. So, for the most of the video clip she was completely drunk (laughs).
Are any other video clips planned for this album's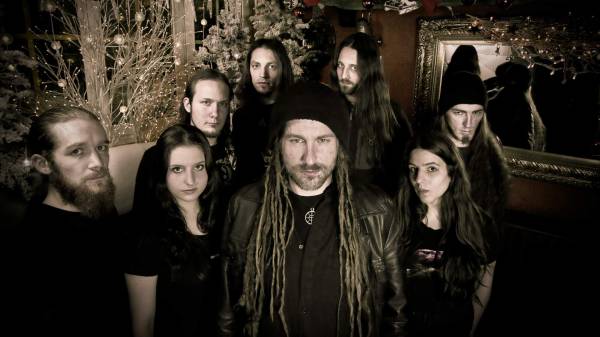 songs?
Yes, we actually did a second one, for the song "Havoc". And depending on how much time that we will have this year, between the tours, we will probably do a third one but we don't know for which song yet.
There is something on your official website called "Elu TV". Some of the videos there are about tours, trips, the new album and also about the band's members opinions on different subjects. Is this a tool that you are using to not only pass information to your fans but also to make them know all of you better, as "regular people"?
In a way, yes. It was just a spontaneous idea. We could actually release newsletters and stuff like that but we thought: why not release it in short episodes? So people can do more than just read the text, they can see behind the scenes and stuff like that.
We thought that it could be nice for them [fans], it could be fun. And yes, you get more of a personal side [of the band], I think.
Are you guys doing them yourselves or is somebody helping you out?
It's basically Kay [Brem], our bass player, who is taking care of that. We were just talking about the whole thing right now, because he has been a little lazy (laughs). But, yes, so far we have done it ourselves but maybe we will let a company take care of that, or something like that. We don't know yet.
So… after the US? What is in the agenda? Any vacation planned?
Right after this tour, we will have another tour in Europe, but then we will have two weeks of vacation. But besides that it will be a busy year. After those two weeks we will start playing in the summer festivals for two or three months. Then we will start touring again, pretty much without a break, until March 2013. So, we won't be bored…
Last time we talked, you said that you would like to play in places like Japan, Australia, Indonesia … Is that in the plan for this year?
Yes, pretty much. But there is nothing confirmed so far. But yeah, for sure, that's on the list.
Any messages to the SOM readers?
Thank you for the interview. Thanks a lot to our fans, for their interest on Eluveitie.
r>