Black Death
Weregoat
Album Name
Unholy Exaltation of Fullmoon Perversity
Released date
30 November 2011
Members owning this album
7
Tracklist
1.

Nuclear Cunt
2.

The Hideous Stench of Occult Slaughter
3.

By the Light of the Moon
4.

Abysmal Whore
5.

Invoke the Black Oblivion
6.

Blackwinged Abominator
7.

Antichrist Kommand
8.

Nocturnal Hunt
Review @ heavymetaltribune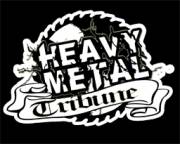 28 April 2012
raw, filthy and bestial black/death metal
After the battering that
Ritual
Necromancy
provided last year with their debut full length release
Oath
of the
Abyss
, drummer
Nocturnal
Hellfucker returns on bass and vocals on yet another savage black/death metal band
Weregoat
through the release of the band's debut EP,
Unholy
Exaltation
of Fullmoon Perversity. With goats, moon and a name as such, this certainly promises to be one hell of a journey ahead.
The darkness that befalls the listener begins right from the very beginning of
Nuclear
Cunt, with the sounds of the impending doom that eventually gives way to crushing guitar riffs and the insane distortion/feedback helping to reinforce the already barbaric/savage atmosphere that the band has forged with that filthy production quality.
Nocturnal
Hellfucker's vocals are monstrous and sound extremely huge, not unlike those of similar bands such as his other band,
Ritual
Necromancy
, threatening to devour all in the band's path. The usage of echoes also make it sound almost as if they were recorded in a cave, helping to give the music on
Unholy
Exaltation
of Fullmoon Perversity an extremely primitive feel.
Music-wise, the band leans close to bands such as
Nocturnal
Blood
, though there is definitely a rawer edge to
Weregoat
's music and the production quality on here helps to bring out and accentuate the aggression and destructive potential of the band's music. The lead guitar lines of Indiscriminate Impregnator almost have no sense of melody or coherence to them and the drumming of Sadoseducer are bestial as fuck, but this is precisely the point of
Weregoat
, helping to further smear the scene with even more chaos than there already is, putting out any glimmer of hope that one may have. There are even times when the lead guitar lines such as the pick scratch and the song progression on Abysmal Whore remind listeners of the style of war metal horde
Revenge
, and this is definitely pleasing to the ears of those who are fans of brutal black/death metal. The black metal element in the band's music seeps out on tracks like
Antichrist
Kommand, where the underlying riffs are undeniably black metal, perhaps giving some sense of sanity to the continuous 18 minutes of onslaught thus far.
Those unaccustomed to music like those on
Unholy
Exaltation
of Fullmoon Perversity would perhaps dismiss this as yet another of those primitive and untalented bands' failed attempt to be brutal, but for the more knowing fans of the aforementioned bands like
Nocturnal
Blood
and
Ritual
Necromancy
, this is perhaps one of the best representations of raw, filthy and bestial black/death metal yet.
Other productions from Weregoat
Other famous albums in Black Death