Death Grind
Homo Iratus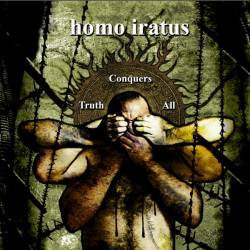 Album Name
Truth Conquers All
Members owning this album
1
Tracklist
1.

Impunity
2.

Audeamus
3.

Culture of Fear
4.

Ka Mate
Comment @ Nastasia

30 May 2010
The Greek deathcore band
Homo Iratus
make part of the Greek music scene since 1998 and after six years long pause they release their EP
Truth Conquers All
. Their antihumanistic attitude is still the same but six years have shown a development and the quarter of hour is just concentrated pure rage and mad musical skills.
It is very difficult to judge track by track since the whole album much more appeals like one whole as the tracks fluently tie one to the other and none of them disturbs the integrity of this striking piece of work.
Impunity is a sublimation of seriously pissed off death metal with almost groovy riffs. Slightly changing rhythms and speed of the song doesn't let you get bored and as well makes a perfect soil for the following track Audeamus. The poetic name is a bit misleading and if you wait for a rest and something less aggressive, you can't be more wrong. The spoken parts give the track a very organic charge and fallout.
The second half of the release doesn't stay behind. Culture of Fear has some more melodic parts (few seconds long yet still outstanding) as well as the spoken parts too, but as a whole it goes pretty much into grindcore which may please the fans of this genre.
And whether you are a fan of rugby or not, the metal version of the Maori battle cry used as well by New Zealand rugby team Ka Mate will catch your ear. You don't even need to understand the meaning of the words to get engulfed by the song as well as what it represents.
Truth Conquers All
is a very entertaining piece of work including many great new ideas and usage of the old ones, all in relatively short time which makes this EP not only worth listening, but also worth spreading into the world.
Other productions from Homo Iratus
Other famous albums in Death Grind