Thrash Metal
Havok (USA)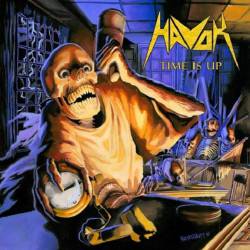 Released date
29 March 2011
Members owning this album
126
Tracklist
1.

Prepare for Attack

2.

Fatal Intervention

3.

No Amnesty

4.

D.O.A.

5.

Covering Fire

6.

Killing Tendencies

7.

Scumbag in Disguise

8.

The Cleric

9.

Out of My Way

10.

Time Is Up
Comment @ Moose1220
The revival of Thrash
Metal
has become more and more prominent in recent years. Bands such as
Warbringer
,
Toxic Holocaust
, Lazarus A.D. and others, have raised Thrash
Metal
back from the dead with flying colors. One band that should also be mentioned here is American Thrashers,
Havok
. With the release of their first album "
Burn
" in 2009,
Havok
broke through with a great record. While it did not exactly re-define the genre, it was still an acceptable debut. However, their second album "
Time Is Up
" is faster, heavier and more technical; this is a thrashterpiece.
While "
Time Is Up
" may not re-define Thrash
Metal
as well, but it still brings up the good days of Bay
Area
Thrash. The album opens with "Prepare For
Attack
", also a great way to open up the record I might add. Vocalist/guitarist David Sanchez has a perfect voice for this genre; not too brutal, yet not too clean either. His range, along with his screaming, are very well done.
The rest of the album is just as strong. My standout tracks include "Covering Fire", "The
Cleric
", "Killing Tendencies", the title track and "D.O.A.". Going back to David Sanchez, his scream on "D.O.A." sounds almost identical to Tom Araya on "
Angel
Of Death". Drummer Pete Webber has some nice and technical drumming throughout, along with bassist Jesse De Los Santos. Lead guitarist Reece Scruggs has some incredible parts within the album.
"
Time Is Up
" is a worthy addition to your Thrash collection, old and new. If you enjoy listening to Thrash
Metal
even in the slightest, check out "
Time Is Up
". You will not be disappointed.
Other productions from Havok (USA)
Other famous albums in Thrash Metal