Death Metal
Pyrithion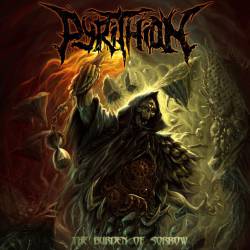 Album Name
The Burden of Sorrow
Released date
16 April 2013
Members owning this album
23
Tracklist
1.

The Invention of Hatred

04:09

2.

Bleed Out

02:48

3.

Rest in the Arms of Paralyzed Beast

05:00

Total playing time

11:57
Review @ VesselsOfBlood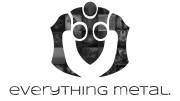 20 April 2013
From the grand musicians who have brought you such profound metal acts as
As I Lay Dying
and
Allegaeon
, comes one of the newest giants in the modern death metal genre. They began in
2012
from Agoura Hills, California, where the collaboration of some very talented acts combined to establish a new modern metal battalion. Doing the vocals is Tim Lambesis, the founder of the project, who is the main vocalist for legendary outfit
As I Lay Dying
, and the guitarists are Ryan Glisan of melodic death metal band
Allegaeon
and Andy Godwin, formerly of death metal band
The Famine
. However, entering the studio with the trio are drummer John Paul Andrade of
The Breathing Process
and bassist Josh Gilbert, who is also from
As I Lay Dying
. In 2013, the end result turns out to be the band's release of their debut EP, "
The Burden of Sorrow
." This record may only carry three tracks and only lasts a little over ten minutes in running time, but the collaboration demonstrates that they are a force not to be taken so lightly.
Considering the lineup that Pyrithion has conjured in its roster, it would seem incredibly tempting to fall into the trap where the members merely show off their instrumental talents without tying into the actual tracks. However, this EP makes it clear that this band has no intention of doing so, and everything about the musicianship is powerful, along with the production and mixing. The vocal range of Tim Lambesis is very versatile, ranging from brutal low growls to high pitches to his traditional mid-pitch roars without sounding strained, and they teem with awesome ferocity. The guitars also perform their part incredibly well, packed with unrelentingly heavy riffs and wicked melodies which alone are enough to get the crowd's blood boiling. The drums are excellent, managing to hold a solid ground and focus in the midst of their technical chaos and providing a vicious framework for the band's modern death assault. On top of all of this, the sound production is great, because not only does it let each instrument stand out without losing concentration, but it also gives the music itself a somewhat gigantic atmosphere, and thus makes the formula more destructive. As a whole, the musicianship and the production are executed wondrously in this fine, deadly release.
In "
The Burden of Sorrow
," each of the three tracks that the release offers to its audience consists of pummeling rapid-fire modern death metal. Simply put, the album overall is incredibly fierce in its attack, but they do not compromise structure or engaging dynamic in place of this energy. All of the songs are well-built, having peaks and buildups that will definitely keep listeners engaged. The tracks never linger in terms of instrumental noodling or dragging out padded filler, and the end result is a well-focused piece of modern death metal. On top of that, the energy and intensity behind these tumultuous tunes is top-notch, with all elements of the musicianship coming together to generate three potent tracks to pummel the band's audience with. However, that being said, when going into this release, you should not expect anything necessarily new or groundbreaking for the group's own genre. But even so, they showcase it so well that it simply should not be overlooked. Although all of the three tracks are great, the best bet overall would be the last one, "Rest in the Arms of the Paralyzed
Beast
," as it best showcases the band's explosive energy, build-up, and dynamic the best. In this stellar EP, the band demonstrates how a band can focus on engaging listeners in terms of structure while managing to hold tight to unflinching rage and energy.
"
The Burden of Sorrow
" has turned out to be an incredibly solid and enjoyable release. Pyrithion definitely lives up to its hype, having been generated from members of bands such as
As I Lay Dying
and
The Famine
, but the talent of these musicians alone is not the only thing that makes this EP so great. The structures are rock-solid and well-built, bearing some great speed and investment, and on top of that foundation, there is so much violent and fiery energy behind the music that it keeps listeners all the more engaged. As stated earlier, nothing innovative or earth-shatteringly new is exactly brought into the band's heavy genre, so people who wish for something inventive may not be too interested in this. However, that being said, fans of even the projects that the members themselves are involved in will really enjoy hearing them collaborate into this effort. Along with that, in the big picture, fans of feral and quite technical modern death metal will want to try out this dose of musical devastation. All in all, Pyrithion has certainly made their debut into the metal scene with this strong release.
Comment @ Orifice
A Carbon Copy of Allegaeon
I'm sorry it's not that I'm a hater but I just heard the first track and I heard
Allegaeon
's second album and they both sound the same.Don't get me wrong the band doesn't suck in fact I love Tim Lambesis vocals they just need to change their sound that's all.Perhaps it's just the style of the guitarists.
I give this 14/20
Other productions from Pyrithion
Other famous albums in Death Metal