Thrash Death
Merciless Terror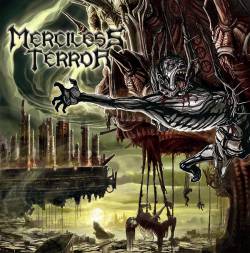 Band Name
Merciless Terror
Album Name
Perpetual Devastation
Released date
27 June 2011
Members owning this album
0
Tracklist
1.

Shattered Existence
2.

Vortex of Death
3.

Perpetual Devastation
4.

Antagonistic Slaughter
5.

The Dead Crimson Skies
6.

Severance
Review @ GandhiEgo
Killer from the first second to the very last, Perpetual Devastation IS the record in 2011 to discover!
If you've followed the Death
Metal
scene lately you've surely noticed how Great Britain was getting back on tracks in full force after having slept over the past glory of their ancient idols.
Merciless
Terror are yet another fine example of this and needless to say they rank high among the other UK-based bands of the genre.
Spirit of
Metal
may list them as Grindcore but these guys do really play Death
Metal
with more than a few hints at Thrash
Metal
. Founded in Nottingham two years ago, they've released one demo the same year, 2009, before gracing us with the release in 2011 of
Perpetual Devastation
. One listen was all it took to get me hooked up to this band. While other records may be called growers,
Perpetual Devastation
brought everything I enjoy about Death
Metal
in one single shot.
Merciless
Terror may fall under the Old School Death
Metal
genre but basically they're doing it right where others merely copy the ancient masters. You're not looking at copycats that will hide their lack of inspiration in a so-called raw evil sound meant to sound as a tribute to
Incantation
and what not. The production is Death
Metal
at its very best and would put to shame even the most seasoned bands out there.
Musically speaking,
Merciless
Terror display a very wide range of influences which in the end ultimately lend them their very own personality. Their music might best be described as having the power of
Bolt Thrower
's debut (
In Battle
There is no Law), the rage of
Dark Angel
's
Darkness
Descends and the madness of
Carcass
' Reek of
Putrefaction
. They deliver slabs of old school fervor mixed with a brutality that is inherent to the very best acts in Thrash
Metal
making their songs not only catchy but insanely violent.
The only moment of relative peace may be found in the track entitled Antagonistic
Slaughter
which is some instrumental short piece very reminiscent of
Testament
's Eerie Inhabitants but it serves mainly as an intro to the last song named
Severance
, which has a very distinct
Asphyx
flavor to it mainly because of how heavy it is.
My only complaint? Guess there's none except it's only a EP and therefore quite short in duration (less than twenty minutes). This is brilliant thanks to these guys' inspiration and killing songwriting, great musicianship and a versatile singer that makes you think sometimes of Tardy, sometimes of a sped up version of Araya and sometimes a grunt master with a PhD in growling.
Killer
from the first second to the very last,
Merciless
Terror's
Perpetual Devastation
IS the record in 2011 to discover coming from a new band. Help yourself and contact them right away. It is worth it!
Other productions from Merciless Terror
Other famous albums in Thrash Death