Grindcore
Eating Shit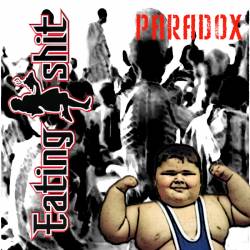 Released date
12 March 2010
Members owning this album
9
Tracklist
1.

Beginning Alone
2.

Dubitatif
3.

ES 27
4.

Kill Earth
5.

Wall E
6.

Boom Life
7.

Bells of Sin
8.

You My Kind, Human Kind
9.

Love, Hate, Pain and Pleasure
10.

Paradox
11.

La Jenlain Brune
12.

L'Étrange Noël d'ES
13.

Grind'n Roll
14.

Hard Core
15.

Forgotten Humanity
16.

One Shot
17.

Toto Va Trop Vite
18.

For Meat
19.

Auditive Illusion
20.

Beowulf's Ride
21.

Life
22.

Laraikichno
23.

Eating Shit (Remix 2009)
24.

Ending Alone
Review @ GandhiEgo
France! Its wonderful cheeses, its Eiffel
Tower
, the country of love and scenic countryside… and its Grindcore scene! For the past twenty years or so, France has acquired quite the know-how when it comes to Grindcore. On one hand, you have veterans like
Sublime Cadaveric Decomposition
or
Inhumate
that play the "serious" kind of Grindcore and on the other hand parody masters such like
Ultra Vomit
or
Gronibard
.
Eating Shit
falls rather in the first category though they do not despise a few attempts at humor. Obviously with an intro and an outro played by the accordion, you get the "French" stereotypes quite fast in your head, add to this some reggae beats or explicit track titles like "La Jeanlin Brune" (named after a popular beer) or "Toto va trop vite" (Toto is going too fast) and there is little chance that you will not figure where
Eating Shit
are coming from.
Still besides these obvious hints,
Eating Shit
is all about great music. Yes it's 24 tracks and most fit between the one minute mark and the two minutes mark, but hey it's Grindcore! My CD did not come with a full lyrics booklet but looking at most titles and the cover you can tell that
Eating Shit
is one of the more "committed" bands much like good ole
Napalm Death
. They're most likely not here to fool around or give you a master course in anatomy.
Eating Shit
deals with societal themes and their music is rather harsh and brutal which makes the "fun" interludes even more bearable because they bring some fresh air to inhale once in a while.
Musically,
Eating Shit
is some kind of a power trio, bass, guitar and growls. The drumming is taken care of by a machine. Some of you may be allergic to these two words "drum programming", but I guess that until they find a real capable drummer
Eating Shit
is going to have to stick to this technology because unless they tame their music a bit there's no way a "human" drummer would likely be able to ensure such brutality. This may give their music some kind of a modern edge but the spirit and the energy fully compensate this "modern" aspect and you know the guys behind this project display more "old school" vibes than most recent Grindcore acts.
There is violence, there is sheer brutality, corpse crushing riffing and hell blasts but then again maybe it's the themes they deal with or just their "romantic" (sic) side, but there is some kind of inherent melancholy in those tracks. At first, I even had this nice image of trying to picture a band like
Prong
going Grindcore all the way. If you can picture this, then you'd get a rather good image of what
Eating Shit
may sound like.
Not just your 'nth French witless Grindcore band but rather a band that should not be overlooked and played a few times to try to begin to grasp all that there is to be grasped. Definitely something I'd recommend!
Other productions from Eating Shit
Other famous albums in Grindcore