Stoner
Alabama Thunderpussy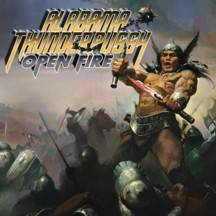 Band Name
Alabama Thunderpussy
Members owning this album
34
Tracklist
1.

The Cleansing
2.

Void of Harmony
3.

Words of the Dying Man
4.

The Beggar
5.

None Shall Return
6.

Whiskey War
7.

A Dreamer's Fortune
8.

Valor
9.

Open Fire
10.

Brave the Rain
11.

Greed
Comment @ delvo76

13 April 2008
This is one of the most impessive albums I have heard in a long time - true metal in every sense of the word.

The guitar work is flawless and keeps getting better everytime you hear it. The bass and drums are both pummelling and technically impressive. The best thing about this album however is Kyle Thomas adding his unique brand of amazing vocals to such an awesome group of musicians. KT really does take this thing to a new level. Adding atmosphere and feeling to soaring songs that both dig the depths and fly the heights.
You have to but this album to know what I'm talking about but, truly I believe this is one of the best metal albums I have ever heard!!!!

Utterly Amazing!!!
Other productions from Alabama Thunderpussy
Other famous albums in Stoner