Progressive Metal
Katatura
Released date
01 November 2010
Members owning this album
2
Tracklist
1.

The Thin End of the Wedge
2.

Direction of Death
3.

Unavoidable Delay
4.

For a Reason
5.

Ego
6.

Allusion
7.

Nothing Lasts Forever
8.

Aegrotatio
9.

Essential Insight
10.

Katatura
Review @ hack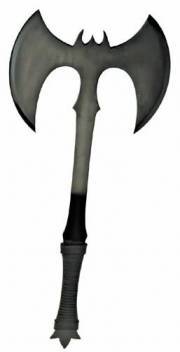 29 May 2012
...the poor man's Meshuggah.
Forgot
to get your prescription refilled? Don't sweat it, because Katatura offers some material that will have you tweaking way better than anything that your psychiatrist can sell you. They are a 5 piece Progressive Metal band from Germany, featuring 2 guitarists, and a talented vocalist. Katatura have obviously named their band after a miserable shanty-town in Namibia, Africa. There isn't any keyboard music or flashy guitar solos in here, like
Dream Theater
uses. There aren't any traces of
Power Metal
cheesiness, like we hear on the
Symphony X
albums. You won't detect any artsy-fartsy commercial Metal in this, like recent
Mastodon
either. Instead of conforming to those stereotypical patterns, they approach the Progressive Metal genre with a very dark, and disturbing strain of math metal. They're at the opposite end of the spectrum, sounding more dreary than cheery.
The album opens with The Thin Edge of The Wedge, which is a slow and creepy song. Mysterious guitar picking similar to that of Antimo Buonno from
Hacavitz
embodies the track, with the incoherent ramblings of a seemingly schizophrenic madman, while distorted voices are screaming in the background. That serves as a 2 and a half minute intro, to this forthcoming nightmare of an album. At first, I chuckled at the presumed cartoonish vocals. But I was soon stunned to realize that these guys are serious as a throat slashing and that this album is no joke. Vocalist Angla can effortlessly go between the low growling vocals like Anthony Rezhawk of
Terrorizer
and hit the higher screaming notes like Erico Pedrosa of
Horned
God
. He goes way below, above, and beyond the talent of either of those other vocalists. Angla brings a sensational element of insane melodrama to this band.
The music sounds very heavy and it's played at a medium tempo. Bassist Djon plucks his bass very loosely and emphatically, like Lovgren of
Meshuggah
. The guitar music is very down tuned and it's hard to differentiate that from the bass music. So where the hell is this second guitarist at? He's using a palm muting guitar technique, which blends into the rest of the music, like a black mamba stalking in a tree. Both of the guitarists focus on rhythm and not so much on melodies or note choice. The stringed instruments take on more of a percussive role and the drumming is used more to accentuate their musical schemes. Instead of utilizing guitar solos they use doomy bass solos, which are very heavy, and darkly epic. While a madman hollers about killing people in the jungle, as though killing people is just a casual part of everyday life.
As the album progresses forward, the guitar rhythms become more and more dynamic. The guitar riffs are heavily palm muted, with changing speeds, to give it a warped sound effect. From the 7th track onward, they evolve into full blown djent Metal, as both guitarists play palm muted polyrhythms, that conflict with each other yet correspond at certain points. This musical arrangement parallels the style of
Meshuggah
. Things get even more melodramatic on track 10, entitled Katatura, as the vocalist calls an opponent out to the jungle for a fight to the death. This is followed by an outro song which sounds ghastly, ghostly, and downright bizarre, like a soundtrack to a gruesome dumping ground for bodies in the jungle.
This music sounds as though it could have been written by a bored patient in a psyche ward, during an extended stay for a prolonged mental evaluation. I would venture to call them the poor man's
Meshuggah
, with their dynamic presence of grim rhythms, and absence of melodies. Their use of junky djent rhythms enables them to create soundscapes of the worst shanty-towns in the 3rd world. Where the snakes fear to slither, since the natives greedily eat the rodents, and anything else that moves for themselves. This debut album is their one and only release so far. I'd like to get some more material from this band. Music as good as this should be played for at least 2 hours, if not 3. I highly recommend this album.
Other productions from Katatura
Other famous albums in Progressive Metal