Black Metal
Burzum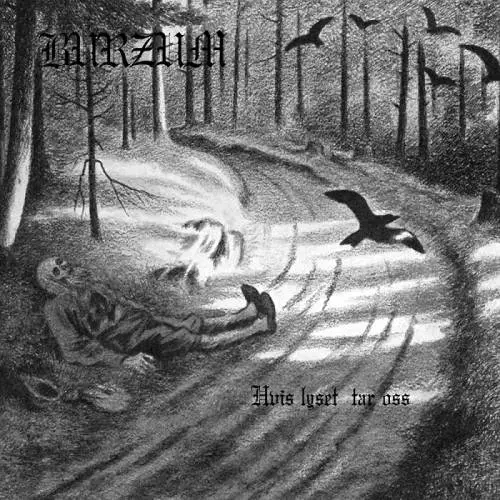 Album Name
Hvis Lyset Tar Oss
Released date
15 May 1994
Members owning this album
589
Tracklist
1.

Det Som en Gang Var
14:21

2.

Hvis Lyset Tar Oss
08:04

3.

Inn I Slottet Fra Droemmen
07:51

4.

Tomhet
14:12
Total playing time: 44:28
Review @ InfinityZero

08 June 2010
Varg Vikernes is without question the most controversial man in heavy metal, but despite being pre-judged by many as being violent and angry, his music in the band
Burzum
does not deal with the typical conventions of black metal, like Satanism and violence. His music can be thoughtful and metaphorical, and there's no better example of that than in
Hvis Lyset Tar Oss
.
Consisting of only 4 songs, none of which are under 7 minutes, this album is seen by many as one of the best black metal albums ever made, and Varg Vikernes himself said it was the peak of
Burzum
's musical period. The best thing about this album comes in right off the bat: an atmospheric musical soundscape that he has never matched before or since. There was little to no atmosphere in the debut album (although the cold, sharp riffs and general dark feeling made up for that),
Det Som Engang Var
had some atmosphere, but this album I can just really sink into, and feel the music more than any other
Burzum
release. Keyboards are much more present in this album, than in the past ones, becuase they are used in songs outside of the ambient instrumentals. Varg uses them in every song except one to underline the music and carry it along and accompany the pounding exciting drums and speedy tremolo picked guitars.
Det Som Engang Var
is the first track, and it opens up with the keyboards moving along on their own, making a slow, drawn out melody with quiet guitars following along with it, and this is how the album builds atmosphere, and it does it really well. It almost feels like I'm being brought into the Theodor Kittelsen picture shown on the album artwork. Then the guitars come right out in the open with a highly memorable riff, and then the drums come pounding in, and I don't know if the drums sound the same on the CD as they do on the record that I have, but they sound incredible. Every drum Varg strikes resounds and can be heard in perfect clarity. The pattern of keyboards, drums and guitars continues until about 4 and a half minutes in, when those harsh, inhuman vocals start up. As most
Burzum
fans know, these vocals take quite a while to get used to, and I don't exactly blame people for not liking Varg's vocals. It took me quite a while to get used to them, and this is the song that got me used to them. To defend them though, although they deffinitely aren't talented from a technical point of view, it's that relentless emotion that comes from them that I love. That, and the power that they surge through the music. The song pounds, booms, and crashes, and it still gives in an interlude or two that take things slow and bring the keyboards back, giving the song a chance to breathe and develop atmospherically. Even though the song is an impressive 14 minutes, it doesn't ever feel long to me. Actually, the way I get into this song, I can't even keep track of time anymore. It's a really great song, one of
Burzum
's very best.
The next track is the title track,
Hvis Lyset Tar Oss
, and to me, it's the only blemish on this record and is the only reason I didn't give this a 20/20. Don't get me wrong, it's a good song like the others, but it doesn't meet the standard of the other songs by far. I always get into it when it starts, but as the song continues, I begin to get a little bored. Not really that much is going on in the song. It does have a much faster pace than the previous song, but it doesn't really take you anywhere like the other songs do. I did hear that Varg had recorded a song that he was going to use to replace the final track with called En Hvitt Lys Over
Skogen
, which I have heard before on a compilation of rare
Burzum
songs, but I think that En Hvitt Lys Over
Skogen
should have replaced this song instead. It fits better into the whole album and it's just a much better song in general.
Moving on to another great one, Inn I Slottet Fra Drømmen. It starts with a simple crashing guitar riff and some skilled drumming that gets you pretty pumped. Varg's screams come in, and the heavy guitar riffs go along with everything in a much more melodious sense of aggression than the previous songs did. It's definitely much more exciting than the last song, and progresses quite a bit more too. The patterns change frequently enough to ensure that I stay with the atmosphere, and then my favorite part of the song comes in: 3:43 to the end of the song. The keyboards come in and join the guitars in a more progressive riff that just keeps leading you to different places in the music, and the song ends off on a highly headbangable riff at 5:35. The song has all the atmosphere and heaviness that the first track did, although it's concentrated into 7 minutes (the shortest song on the album).
The final song is
Tomhet
, and it ends the album on a prefect note. Another 14 minute song, with just as much atmosphere as all the other songs combined. It's an ambient instrumental consisting of only keyboards, but it invokes a hypnotic sense of calm. It really reflects this album's range and brings everything together for the album and completes it. It isn't nearly repetitive as the 25 minute ambient song from
Filosofem
, and it keeps you with the soothing atmosphere all the way through. It's a nice way to let you settle down and consider what you're hearing. It's an amazing song. (The video clip I put in with the review is the final 7 minutes of the song. You'll see what I mean when you hear it.)
All in all, the album is one of my absolute favorite albums I've heard so far in my life. It has a dense atmosphere that doesn't let up and really reflects what
Burzum
's music is like: thoughtful and atmospheric. This is Varg at his best, and if you're a fan of
Burzum
or black metal, don't let this release pass you by. It really is astounding.
Other productions from Burzum
Other famous albums in Black Metal