Progressive Power
Heaven Rain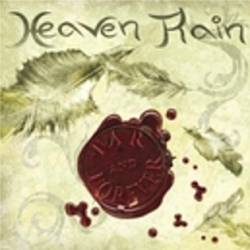 Album Name
Far and Forever
Released date
04 July 2008
Members owning this album
7
Tracklist
1.

Before ?

01:54

2.

Rain Will Fall Again

04:54

3.

Beauty of You

04:27

4.

Go Away

05:14

5.

Can't Stay

03:50

6.

Final Point

05:26

7.

Never Give You Away

04:05

8.

Far and Forever

05:59

9.

Letter

05:01

Total playing time

39:50
Review @ Chbi

20 August 2008
Heaven
Rain
started in the home studio of Goran Bastinac (keyboards) in Banja Luka (RS) when he, and his friend Igor Papals (guitar), recorded a demo for the instrumental track "
Rain
Will Fall
Again
" in the summer of 2006. In 2007, Božidar Šević was called up by Goran to do some vocals and in the begining of 2008 Nebojša Lakić (drums) and Bojan Jokšić (bass) completed the band !
In the summer of 2008, Moonwolf Records released their debut album "
Far and Forever
", based on progressive and melodic metal and inspired by bands like
Nightwish
and
Dream Theater
.
The album exist of 9 mostly very symphonic tracks with memorable and powerfull melodies with some strong ambient and heavy metal influences, which make you think of
Yngwie Malmsteen
and a little touch of the 80's wherease other tracks are a bit softer and more mainstream (with a strong film soundtrack feel to it).
The vocals are not exceptional and the grammar didn't always seem an issue to these guys, but the guitar parts are very strong. Igor Paspalj is a highly skilled guitarist in his own right. The compositions could have been a bit more epic but are heartfelt and very true.
Unfortunately, the sound of the recording misses the rawness I think this band could have on stage, it could have been a little more daring, it's a bit too clean.
It's a debut album and you can hear it, but this is certainly not the average metal-album : this album tells a story and I highly recommend this album to all fans of symphonic metal !
Other productions from Heaven Rain
Other famous albums in Progressive Power