Doom Metal
Gallow God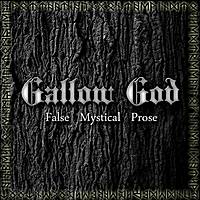 Album Name
False Mystical Prose
Released date
16 December 2010
Members owning this album
4
Tracklist
12" EP vinyl version out in 2011 by Psychedoomelic Records
1.

The Sin and Doom of Godless Men
2.

The Emissary
3.

Summon the Rune Wizard
4.

Ship of Nails
Review @ GandhiEgo
Inspired Traditional Doom from UK. Elegant and haunting.
It seemed that in the last few years, the Doom
Metal
scene was mostly concentrated around Scandinavia and mainly Finland with figureheads like
Reverend Bizarre
or
Spiritus Mortis
. Even the most extreme side of it had seemed to go further north as well with acts like
Colosseum
or Shape of
Despair
. Obviously there have always been Doom bands just about anywhere but its birthplace seemed a bit deserted as of late.
Birthplace? Well, though some may still argue over it, it's always been assumed that
Black Sabbath
'
Master
of Reality is the cornerstone of the genre. The album from which all Doom derives. So yes, there are still a few English glories left alive but the sight is poor. Take a look:
Anathema
? They've turned into some prog acoustic disaster and long gone are the times of
Silent
Enigma
.
My Dying Bride
, maybe they're still here and their concerts are worth going to but in studios have they ever surpassed or at least equaled something like their first recordings? No.
Cathedral
? A good contender you may say but then again their late recordings were more tributes to the sound of the 70s rather than pure Doom records and to top the cake they just disbanded.
Paradise Lost
? Ok, you must be joking. Warning? A fine band but why did they have to split up? Enough of the ranting, you see the point. A dying scene is all we've got left in Great-Britain.
All? Well, not so quite. Gallow
God
formed in 2009 and in that relatively short amount of time, they came up late last year with a record of elegant beauty that may hold great promises for the otherwise moribund British scene.
False Mystical Prose
may only feature four tracks but they're daring, haunting and powerful. Chances are you'll hear quite a bunch of different influences in Gallow
God
's sound but the epic feat here is that they've taken most of the
Extreme
Doom
Metal
codes and arranged it into Traditional Doom
Metal
. Did you get that? Should I reformulate it? OK. Gallow
God
play Traditional Doom
Metal
with arrangements very close to Doom Death. Can't make it any clearer.
All the tracks though coherent with one another have their own specificity. 'The
Sin
and Doom of
Godless
Men' begins with crushing guitars that wouldn't have ashamed Finnish masters
Thergothon
mixed with vocals that would have found their right place on
Ethereal
Mirror (minus Dorrian's legendary bad singing…). 'The Emissary' soon follows to evoke remnants of
Anathema
's Serenades with bits of
Black Sabbath
and Warning. And so on.
It's then ok to hear Trouble,
Cathedral
and other minor or major gods of the Doom pantheon because it seems that all their ghosts just congregated to praise Gallow
God
's genius. Obviously, the Brits are on to something and subsequent releases, their debut for instance, will be scrutinized. Will they give birth to some Doom mammoth having worked better at shedding their influences and finding their real sound or will they wither away with only one good offering for us to contemplate?
I certainly hope for a fantastic debut and every Doom fan should do so as well.
Other productions from Gallow God
Other famous albums in Doom Metal