Black Metal
Stonehaven
Album Name
Concerning Old-Strife and Man Banes
Released date
20 April 2012
Members owning this album
3
Tracklist
1.

Suffering the Swine Array
2.

Death Fetter
3.

Of the White Fall and Frozen Walls
4.

Addressing a Scorn Pole
5.

Coins Under Corpses
6.

Cutting the Necks of the Upstarts
7.

Sword Rape
8.

Observe the Symbol
Review @ heavymetaltribune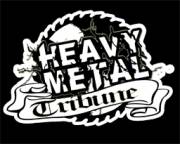 05 May 2012
surprising and a mark of the potential
After that recent encounter with the brilliant release by
Hordak
, that interest in black/folk metal has once again been reignited in me.
Stonehaven
's brand new release, Concering Old-
Strife
and Man-
Bane
may be a mouthful, but that anti-Christian, tribal artwork, that usage of the runes, all bring about a pagan feel to the album even before listening to the music that is contained on it.
But unlike the aforementioned
Hordak
,
Stonehaven
's offerings on Concerning Old-
Strife
and Man-
Bane
leans more towards black metal territory, and throughout the album, parallels with Norwegian black metal band
Taake
are often drawn, with the similarity in the execution style of the band and the folk elements that the band has littered throughout, instantly reminding listeners of
Taake
's more recent materials. Right from the start of Suffering the Swine Array, there is a Norwegian black metal feel in the ominous riffs of guitarists Nick and Caleb, and vocalist Stephen's shrieks and howls bear an uncanny resemblance to
Taake
's Hoest, and is sure to please fans of that style of black metal. While the riffing on Concerning Old-
Strike
and Man-
Bane
are mostly simplistic, Nick and Caleb display versatility in their playing styles, and there are times where songs almost have a later-
Satyricon
feel to them, especially on tracks like Of the White Fall and
Frozen
Walls.
The band's ability to craft catchy songs are also constantly proven on the album, with that perfect fusion of folk and pagan styles and more aggressive black metal moments. The smooth transition between different styles is also evidence of the band's songwriting abilities, such as on Death Fetter, where there is a constant shift between different styles, ranging from pure cold black metal to a somewhat rock 'n' roll style, not only in the instrumentation but also in the atmosphere of the music. That said though, there are times when tracks overstay their welcome, with tracks like Of the White Fall and
Frozen
Walls running for over 8 minutes and the last few minutes of the track basically containing the same riffs over and over again, affecting what would have otherwise been a rather enjoyable track and fortunately, this mostly afflicts the aforementioned track as later tracks tend to keep the listener engaged from start to end.
Though a far-cry away from more experienced bands like
Taake
with the slight inconsistency, the ability for a band to release material of such quality as the music on Concerning Old-
Strife
and Man-
Bane
is certainly surprising and a mark of the potential
Stonehaven
holds.
Other productions from Stonehaven
Other famous albums in Black Metal