Metalcore
War Of Ages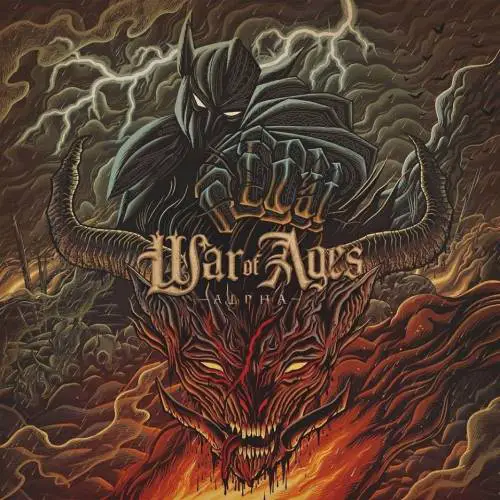 Released date
08 December 2017
Members owning this album
3
Tracklist
1.

Creator

2.

Fullness

3.

Buried Alive

4.

Warpath

5.

Hollow Point

6.

Repentance

7.

Mind Control

8.

Immunity Revoked

9.

Warrior

10.

Cut Throat
Review @ hack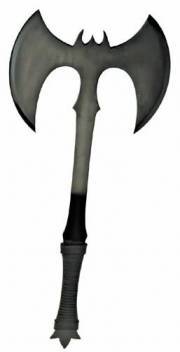 29 March 2018
...probably their ugliest album, but it doesn't disappoint.
War Of Ages
is a very hard working band, they've released eight albums within the span of thirteen years. They are a Christian group and so their music often sounds like a celebration of their religion. But many of their fans listen to them because they rock out decently, with a contemporary sound. Their twenty twelve release,
Return to Life
, was a pretty good outing. It had uplifting atmospheres, mixed with repetitive chopping and grinding routines. In twenty fourteen
Supreme Chaos
was even better, with fast paced melodies and heavenly choruses. They also experimented with industrial and mid Eastern textures. The album cover of this recent release,
Alpha
, depicts a dark figure with horns punching out another demon. Which is probably symbolic of the aggressor being a type "
Alpha
" male. Throughout the booklet and the backside, the artwork shows demons burning with lava.
The album opens with Creator and a chorus chanting; "we are the hope, we are the faceless, we are humanity." The bassist lays down some heavy notes that coincide with chunky guitar riffs. The drummer beats with hard strikes and occasional blast beats, as the lead guitarist accentuates the music with flashy high note picking. The vocalist growls out his lines with a brutal intensity. "Make me a god and turn me creator." "How foolish am I, look at us and what we've become!" The bass rhythms bounce from low to high, with incendiary guitar rips. The clean voice alternates with regular interludes. "You are full of lies, denied by all your pain, will it last you forever." The grim vocals are throaty and angry, with some growling which is darker than they were in the past. The clean vocals come with a more optimistic and soothing approach with pleasant deliveries.
There are two guitarists playing, but sometimes that's hard to discern, because the rhythm guitarist often plays lower notes that blend in with the bass. Sometimes there is fast shredding and speedy high note melodies. At times guitar solos rip away, like guitar hero music. The third song,
Buried Alive
, starts with a hastily picked guitar hook in a modern style. The bassist plays fierce rhythms, in stop and go successions. The drums are beaten strenuously, with ornamental shuffling patterns. The lyrics are growled out intensely and are accompanied by maniacal back up vocals. "Rise and fall, set me on fire." "
Kill
the pain, tear out my fear." Then a dramatic interlude glides in at a speedy tempo, with inspirational clean vocals. "Fear of what the world will think." "Shattered by death and truth, crossed with the constant fear of my repentance."
The sixth track, Repentance, jumps out with a powerful bass performance and is paired with some mysterious keyboard music. Then the pace picks up with intricate riff shifting and the grim vocals scream out almost as viciously as death metal. "Choke you choke on the lines of perfection." "Crawling back to the god you've become." Then there is a sudden slow down, with atmospheric keyboard music and soothing clean vocals. "Severely devoted to myself, revealing it all in a moment." "
Why
can't you wait for me." The tempo soon picks back up with stocky guitar licks and bold bass lines. This scheme is then alternated with some speedy riff shifting. The bassist plays a vital role in these compositions and sometimes leads them with powerful rhythms. He plays chunky deep notes at swift speeds, making a forceful impact.
The drummer is always active to enhance the sound with an energetic presence. There are lots of full bodied beat tone patterns and occasionally quick drum rolls. The ninth number,
Warrior
, starts with a series of coarse guitar chops and grim growling vocals. "The final conflict of our moral right." "Expectations becoming dead straight to the core." The lead guitarist plays high note squealing accentuations, to the strong bass presence. Suddenly the music bursts out with a rage of intensity, as the drummer beats out some snare drum flare ups. It's followed by intricate guitar picking, at an accelerated pace. A flashy guitar solo breaks out towards the end, with angelic clean vocals. "We rise to our feet, making a stand, for the world to see." "Stay the course, as the pressure falls down on you, never back down."
The vocalist digs down deep for some of his most vicious performances yet. The chorus vocals used to sound like an angelic choir. But on
Alpha
they sound grim and similar to
Lamb Of God
. Although the clean vocals still sound nice, in the more accessible interludes. The lyrics are about the tough battleground that Christians live in and they encourage the listener to rebel against corruption. Their guitarists used to play more melodically, with interludes of Celtic styled picking. They're not going with devastating guitar attacks either. The guitar music isn't as dominant on this album. Instead they are relying on heavier bass lines that are played fast. They've got a new bassist and he seems to be an upgrade at the position. The band doesn't offer as much groove as they did in the past. This is probably their ugliest album, but it does maintain a modern metalcore sound.
Other productions from War Of Ages
Other famous albums in Metalcore