Following the release of 'Burn Brightly Alone', their latest full-length album, Cadaverous Condition's Wolfgang answers a few questions.
Hi guys, I had the pleasure to review your latest album which, I must add, is a fantastic one and now is some Q/A time! Though the band may hardly be considered a new band, I'm afraid that some of our readers may not be familiar with Cadaverous Condition, therefore could you give us some bio (try to keep it small haha) as to who you are?
We started the band in 1990 and have never looked back since.
We are doing this now for more than half of our lives and the band enriched our lives but it also took a lot of our time and money away. It really is a double-edged sword.
But you cannot go back now, it is all done and after all it was a wild and intersting ride.
We released numerous albums and stuff, done a lot of things but stayed unknown more or less, due to our individualistic sound and approach and also thanks to disabled record labels.
We weren't made for the breakthrough I guess but those few people that cherish what we have done and what we do made the effort worthwhile, at least I hope so.
Coming from Austria from around the same time as when other behemoths of the genre emerged, Pungent Stench, Disharmonic Orchestra or to a certain extent Disastrous Murmur, how would you view your longevity in light of this and explain why, to this date, why so little people know about you? Were we just not ready for your take on music back in the 90s?
Pungent Stench and Disharmonic Orchestra started a bit earlier than us and had records out and toured some time before we came on, in the early 90ies we were still a demo band while those better known Austrian bands were already rather "big" in the underground scene.
Our strange style did surely not help our commerciality later on, too. We did too many strange split releases and weird music, it was hard to follow for listeners, especially for narrow minded and conservative extreme Metal types.
But we endured and I think it is safe to say that our best albums are the later ones, especially the new one, "Burn Brightly Alone" and that leaves me satisfied.
Besides, we are the only band from way back then that continually released stuff and never split up. You cannot split from CC, I am in it for life.
A few of my pals were having a really hard time picturing your music from my words, so I told them just picture: Pungen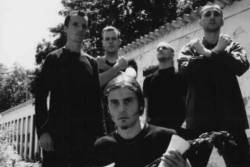 t Stench meet Simon & Garfunkel? Would that work for you or do you think there's more to this? By the way, am I just the only bloke around seeing similarities between you and Pungent Stench? If not, does it annoy you to be "compared" to them?
Pungent Stench meet Simon & Garfunkel, hm? I think you have a point there. I like both those groups, I have all Simon & Garfunkel albums, don't listen to them that often but the music and lyrics are excellent. Pungent Stench are friends of ours and they have simply been the biggest Metal band from Austria. We of course liked their early albums which were very original like so many of the music created in Austria by extreme music groups.
There are those who follow the herd and then there are those few that stick out and swim against the stream. I picture Cadaverous Condition rather in the latter category.
Although I think we do not (nor ever have) sound like Pungent Stench at all, maybe there is a similarity in the catchiness of the riffs and tunes, I don't know.
I think most people will find it hard to find some Simon & Garfunkel in our music, no angelic voices here, but definitely the singer/songwriter approach.
Most critics and people pin our acoustic guitar based material on Neofolk and Death In June, but it really is a singer/songwriter kind of approach.
New Model Army, Phil Ochs, Luka Bloom, Christy Moore and countless others inspire, too.
But also Reverend Bizarre, Burzum, Judas Priest and The Exploited to name but a few.....
Burn Brightly Alone is a fantastic record. I did write this earlier but hey. Mixing together some damn catchy Death Metal tracks with more unothordox songs. I was a bit pained to see you guys self-released it and was wondering if you did this deliberately to retain some freedom of expression or if you'd rather like a label to distribute you properly? Correct me if I'm wrong but it's your seventh album, so how does it feel to be label-free after all this time? More of a deception or something you actually were looking for?
We have always been label free more often than not, in between releases and in between labels.
We searched for a label with this album but noone wanted us, so what other option did we have to release it ourselves?
Thanks to some contacts we got a half decent distribution going, but it is of course not sufficient enou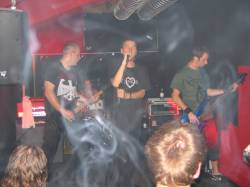 gh. A nice and fine label could have done so much with that album, it is really a pity. Considering all the mediocre and cliche stuff that gets released on those labels who rejected us..... But we are used to that by now.
We do not wait anymore and have no more hope anyway.
As much as I loved the record, that "Folk Death" label must be hard to wear at times. For instance, how do you do at gigs? Do you just skip the more "folkish" songs in favor of the more "DM" songs (which I imagine would be frustrating) or do you actually find bands you can tour with where you can express all of your art?
Live we have always been more of a Death Metal band and these days we do not play live at all anymore.
Another one of our recent turns that make us not very commercial.
You've been playing Metal for the last 20 years. Do you retain the same motivation you had in the beginnings or are you just now too experienced for that? What would you say has changed the most during that time?

It certainly has changed, we are really getting tired now.
But to have your best album released after 20 years into your career is really satisfying.
Similarly and knowing that you're not the next typical Death Metal band, how hard has it been for you to stay afloat, particularly until the mid 2000s where Death Metal was not as popular as it is again today?
It was never easy for us, it was not easy in the 90ies, it was difficult in the 00ies and it is hard now.
Internet is a curse and a blessing and the music business is generally fucked and going down the drain.
At the moment I really don't care anymore.
I appreciate you taking the time to answer these questions. Anything in the near future for Cadaverous Conditions, gigs, new releases, any info, please scream it out!
The new album is the most important thing for the next months and years for us, this is not just a collection of songs, this is our life.
Check it out here:
http://www.cadaverouscondition.com
http://cadaverouscondition.bandcamp.com/album/burn-brightly-alone-the-new-album (free stream)
http://www.facebook.com/CadaverousCondition
thanks for your time
Wolfgang
>