Metal
Vagabond (GER)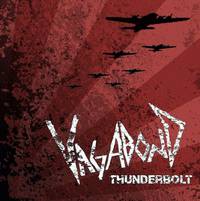 Erscheinungsdatum
28 April 2012
Mitglieder die dieses Album besitzen
2
Tracklist
1.

Arrival of the Vagabonds
2.

Vagabonds of Doom
3.

Thunderbolt
4.

Barely alive
5.

Pride of creation
6.

Berserk Rage
7.

Back in the Stone Age
8.

Don't sleep
9.

King of the Road
10.

Final Destination
Es wurde kein Artikel in Deutsch gefunden, Es werden die Artikel der englischen Sektion angezeigt

Kommentar @ SOSGermany

27 Mai 2012
You should hit the road..... now!
What is the similarity between bands like
Vagabond
,
Eisregen
,
Gernotshagen
and
Macbeth
? Alright all of these bands come originally out of Thuringia. This is the evidence: The reaper is a German guy, exactly as the reaper comes from Thuringia.
Thunderbolt
is
Vagabond
's second full-length release after their debut album called
Ignition
.
Thunderbolt
includes ten brand new tracks all recorded at Klangbunker Studio in Zella-Mehlis. Klangbunker Studio is originally founded by the German band
XIV Dark Centuries
. Producer was Michael Jung. All lyrics were written by singer
Warhead
Werned.
The album starts with the instrumental "
Arrival
Of The Vagabonds" which goes into the second song "Vagabonds of Doom" fluently. The sound reminds me to the German metal band
Rage
while the vocals of
Warhead
Werner sound very similar to
Steppenwolf
. Especially the ninth track "
King
Of The
Road
" remembers me to "
Born
To Be Wild". But I think it is solid following album for
Ignition
. The band made a long step forward. There is a lot of potential in this 4-year-old band based in Meiningen. Maybe they should start touring to get more success. They have experience: They played with bands like
Gernotshagen
,
Trollfest
,
Witchburner
, Excrementory Grindfuckers and even played at the German version of Metalfest in 2011. Now it is the right time to hit the road and start touring. It doesn't matter if they tour a headline or a support tour.
All in all
Thunderbolt
is a good release with some highlights and even some little mistakes also. I´m really excited about what the band will do next but these guys need to be explored. You won´t be disappointed.
Anderen Alben von Vagabond (GER)
Anderen bekannten Alben in Metal