Progressive Death
In Mourning
Album Name
Shrouded Divine
Erscheinungsdatum
02 Januar 2008
Mitglieder die dieses Album besitzen
34
Tracklist
1.

The Shrouded Divine

07:11

2.

Amnesia

03:35

3.

In the Failing Hour

04:22

4.

By Others Considered

06:24

5.

Grind Denial

04:28

6.

The Art of a Mourning Kind

05:29

7.

The Black Lodge

08:13

8.

Past October Skies (The Black Lodge Revisited)

06:33

Total playing time

46:15
Es wurde kein Artikel in Deutsch gefunden, Es werden die Artikel der englischen Sektion angezeigt

Review @ Satanicarchangel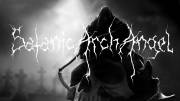 18 Juni 2013
Some albums take time to grow on you, an album that on first listen doesn't reveal much but repeated listens reveal an excellent musical voyage. Other albums don't meander about taking time to grow accustom to, right from the moment you hit play it instantly hits you and makes you think "this is going to be a great album."
Shrouded Divine
is one of these albums.
Shrouded Divine
is a trip into Progressive Melodic Death
Metal
with excellent riffs, astounding melodies, powerful vocals and a doom inspired atmosphere. On their debut
In Mourning
have achieved what most bands can spend their entire career searching for but never finding; a distinctive sound.
Shrouded Divine
is one of those albums that certainly won't be compared to anything else, it has it's own unique flair, although I can make a few comparisons,
Opeth
,
October Tide
,
Noumena
and
Insomnium
instantly spring to mind,
Shrouded Divine
definitely stands on its own as a masterpiece of progressive and melodic Death
Metal
. Sure there's plenty of bands who function on a similar wavelength and I could sit here for ages citing similar bands, but no band sounds quite like
In Mourning
. They're really quite emotional, atmospheric and highly melodic.
The riffs on
Shrouded Divine
are more often than not quite simple, but are played in such a way that makes it seem not the case. They're not generic, never boring and are instantly memorable, with
The Black
Lodge perhaps having the catchiest riff I've heard in a long time.
One of the main selling points of
Shrouded Divine
is that each song is unique; this alone is enough to merit a high score as the band is able to engrave a unique identity into each song to make it stand out but to never feel out of place in the album.
Shrouded Divine
is consistently brilliant and an album that is full of highlights, with each song being a major stand out. Each song has something to set it apart whether that's the chorus of In The Failing Hour's chorus,
The Black
Lodge's phenomenal intro or the gentle and sensitive delivery of By Others Considered. This album is never short of excellent moments and is an album that constantly wows me on repeated listens.
Shrouded Divine
is a powerful and engaging release with some of the best riffs in Melodic Death
Metal
. It's very hard to find fault with this album and I strongly recommend this album to all fans of metal, it's an album that
Need
s to be experienced by all.
Anderen Alben von In Mourning
Anderen bekannten Alben in Progressive Death