Metalcore
Bajo El Exilio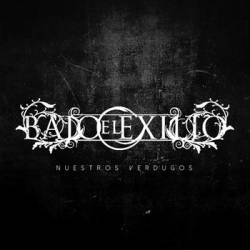 Album Name
Nuestros Verdugos
Erscheinungsdatum
21 Dezember 2013
Mitglieder die dieses Album besitzen
1
Tracklist
1.

Intro
2.

Mis Armaduras
3.

2212
4.

Doce Mil Años de Injutica
5.

Marcado en La Piel
6.

Nuestros Verdugos
7.

Genocidas
8.

Bajo un Nuevo Sol
9.

El Error
10.

Mal Camino
11.

Outro
Es wurde kein Artikel in Deutsch gefunden, Es werden die Artikel der englischen Sektion angezeigt

Review @ Metalhead108

08 Januar 2014
The first release is always the hardest. Whether its amazing like
Fleshgod Apocalypse
, or its horrible like most other bands, the debut is the hardest album to make good. Hailing from Chile, Bajo el Exilio is a metalcore band that has encountered a problem that a lot of bands of dealt with in the past, a roughly mixed, written, and executed debut. This album may not be amazing or even that good but i can tell that this small Chilean metalcore band can pull through and come again strong in a sophomore release. So lets get down to the actual album itself, titled
Nuestros Verdugos
.
Probably the worst part about this album is the guitars. The playing isn't really that bad, just somewhat bland and boring. My biggest about the guitars is that the distortion isn't that crunchy and gritty metalcore type distortion, its rather soft compared to other bands. If you listen to some of the tracks you hear a very odd sounding distortion that isn't normally affiliated with metalcore music. Now, there is a hint of hope for the guitar players. They do pull of some cool harmonies in the track Bajo un Nuevo Sol. If they hone their craft and practice and write a little more complex and pleasant riffs, they can become very successful. The bassist gave very little effort. Not much is heard of him. He does provide that foundation but nothing very challenging or fancy.
The drums are also a bit lackluster. He just plays with the breakdowns (which are very generic) and every now and again you can hear a tom run or drum fill. He does have some quick feet and that may benefit him in the future. He did write some nice driving beats that are good for circle pits and such but nothing very complex or groovy or anything. He is just there with a beat for the rest of the band to work off of.
The best part about this album is definitely the vocals! The lead gravelly vocalist is very good for an up incoming band like Bajo el Exilio. His lows are really cool sounding and give the sound more of a death metal feel. His highs are really raspy and good also for how long he has been doing this. The clean vocalist though...not to many good things to say about him. He sounds really fake and bad to me. If i were Bajo el Exilio, i would stick to almost all aggressive vocals because he has some talent!
Although this debut was rough, Bajo el Exilio has some potential and growing to do. I may have not given them a double digit score, but I'm certain they will change that if they decide to go for a sophomore release. Overall, the producer did a pretty poor job of mixing it all. With that said, i give
Nuestros Verdugos
by Bajo el Exilio a 7/20
Anderen Alben von Bajo El Exilio
Anderen bekannten Alben in Metalcore