Speed Metal
Demona (CHL)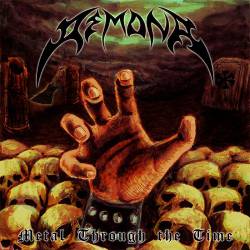 Album Name
Metal Through the Time
Erscheinungsdatum
02 Mai 2012
Mitglieder die dieses Album besitzen
7
Tracklist
1.

Introduction
2.

Pay for Your Sins
3.

The Apocalypse
4.

Ataque de Locura Homicida
5.

Earthquake
6.

Solo Existe el Metal
7.

Nightmare
8.

Llagas
9.

Metal Through the Time
10.

Poisoned
11.

Tormenta
12.

Don't Play with Fire (Wardance Cover)
Es wurde kein Artikel in Deutsch gefunden, Es werden die Artikel der englischen Sektion angezeigt

Review @ TimeSignature
The mighty return of Speed Metal at the hand of Demona
Hell
yeah! Speed metal is back! And what better representative than
Demona
, a Canadian-Chilean underground band led by Tanza Godoy, daughter of Jackie Godoy and for a long time a one-woman speed metal killing machine who, despite facing all sorts of adversity, stuck to her guns and never lost sight of her goal: to make old school quality speed metal. Now, all the hard work has come to fruition in the form of the debut album from
Demona
, now a full band, but still under Tanza's command.
We are dealing with old school speed metal here evolving around old school thrash and speed metal riffage chucking away at breakneck velocity, accompanied by fast, at times even punky drumbeats and a nicely audible and round, almost warm sounding, bass. There are plenty of shredding guitar solos, some of which are provided by guest musicians, including Mr Godoy Senior.
The album is complete in its use of speed metal aesthetics, which means that there are a lot of bursts of melody, and at times it sounds like NWOBHM in speed (just check out some of the more melodic parts of '
Nightmare
' or the galloping, nay stampeding, riffage in 'Llagas'). The title track is a speed metal power bomb, featuring guest musicians from
Warrant
,
Wardance
,
Sabbat
(JPN), and
Gurd
, among others. As a bonus, there is a well-executed cover version of
Wardance
's 'Don't Play with Fire'.
The album contains a lot of
Demona
classics, some of which have been around since the very early days of the band. They have all been rerecorded with the present
Demona
line-up (with help from
Hugo
Uribe on drums), and thus there is both a lot of history and a lot of authenticity to the album. Tanza's vocals have fortunately not lost the unique quality that has characterized the sound of
Demona
since its inception.
The production is old school and unpolished, but not unbearably raw. Still, it does suit the overall "do it yourself" feel of the album very well, and certainly adds to the speed metal authenticity of the album.
Speed metal to the bone,
Demona
's
Metal Through the Time
has everything that makes for good speed metal. It has the charm, the aggression, the influence from traditional metal, and it has the same type of production. Fans of old school thrash and speed metal are bound to love this album.
Anderen Alben von Demona (CHL)
Anderen bekannten Alben in Speed Metal