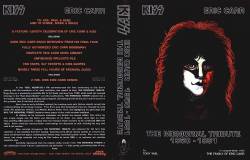 Keine Bewertung
Album Name
Eric Carr Memorial Tribute
Mitglieder die dieses Album besitzen
0
Tracklist
ERIC CARR MEMORIAL TRIBUTE
(2MC-boxset)
01 Intro
02 King Of The Mountain
03 About the broadcast..

.
04 Heaven's On Fire
05 EC commercial spot..

.
06 Under The Gun
07 Interview Eric Carr Dec

.

23, 1989 for WCWP
08 Little Ceasar
09 No, No, No
10 About Chikara..

.
11 Interview, Continue
12 Don't Leave Me Lonely with Bryan Adams
13 Interview, Continue
14 All Hell's Breakin' Loose
15 Legends Never Die with Wendy O'Williams
16 Ain't None Of Your Business with Wendy O'Williams
17 About Eric's early life and bands

.
18 I Cry At Night with Cellarman
19 About the Elder..

.
20 Escape From The Island
21 Under The Rose
22 Breakout with Frehley's Comet
23 Carr Jam 1981
24 Interview, Continue
25 About other KISS members..

.
26 Your Turn To Cry
27 About Rockheads..

.
28 Interview, Continue
29 Beth ( by Eric Carr 1988 )
30 Interview, Continue
31 I Love It loud
32 Closing..

.
33 Off the air stuff with Eric...
released 1998 by Tony Mal
LABEL :
USA : Unofficial Issue - 2 MC box set
NOTES :
The box-set includes;
- Rare Eric Carr radio interview from his final tour
- Fully authorized Eric Carr biography
- Complete Eric Carr song library
- Unfinished projects file
- Fox facts, sly secrets and Kiss quotes
- Nearly three full hours of archival audio
- 2 pre-Kiss Eric Carr songs!
Box set with 2 audio-cassettes created by Tony Mal for broadcast on WCWP 88.1 FM in late 1992, the package features a 1989 interview plus, for the first time anywhere, is the complete Eric Carr catalog, featuring every official release written or sung by Eric, uncut and direct from digital, including little-known songs recorded by other artists

.
Plus, as an added bonus, are two songs recorded and sung by Eric before he joined Kiss.
Originating as a previously unavailable HOT IN THE SHADE interview from 1989, which itself had received coverage in the "East Coast Rocker" and other publications, "The Memorial Tribute" evolved into a thoroughly researched, engaging biographical exposé, chronicling the life of Eric Carr and his tenure in the band Kiss..