Metalcore
Syranic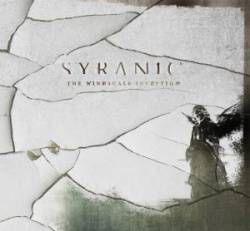 Album Name
The Windscale Inception
Tracklist
1.

Endless Open End
2.

Trans[c]ience
3.

Nemesis
4.

The Mindscale Inception
5.

Death Facility One
在中文中没有找到相关文章, 英语部分的文章已被显示

评阅 @ fuckedshredhead

09 十月 2010
"
The Windscale Inception
" is the Debut EP of the Aachen based German Metalcore band Syranic.
The first time I heard of these guys in April 2010. I was added on My space and didn`t expected much. You always get these kind of invitations on My space and most of the music is definetly garbage.
But Syranic caught my attention really fast and their preproduction of "
Endless
Open
End
" was already astonishing!
I was really looking forward to get my hands on this EP and finally got it lately.
A few words first: This is first class modern metal and I haven´t ever heard something like this from a German band in a couple of years!
The EP kicks off with a riff which couldn´t be done any better by
Fear Factory
or
Mnemic
.
Endless
Open
End
is a great opener for the whole EP with a really catchy chorus. It is mixing all the good influences of the last years in modern metal and the "Djent" aspect is more than obvious. This "Djent" impression and the high standard of "
Endless
Open
End
" are continuing during the last 4 songs of this EP and leave a remarkable impression
Syranic are a real phenomenon if you think about the age of this project. This is their first release and they already managed to write monstersongs like the outstanding Hit Trans[c]ience, Nemesis, Death Facility One and also the really melodeathed "The Mindscale
Inception
".
The band offers a great sound, great arrangements, an incredible shouter/singer, great guitarwork and an absolutely insane drumming.
Summing up I have to say that this is not just a convincing debut, this is a remarkable debut.
A must have for fans of
Soilwork
,
Mnemic
,
Meshuggah
or
Strapping Young Lad
!
This is the way Modern
Metal
has to sound like in 2010 and I believe there are great things to come in 2011.
Other productions from Syranic
Other famous albums in Metalcore