Symphonic power
Rhapsody Of Fire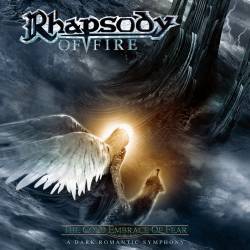 Band Name
Rhapsody Of Fire
Album Name
The Cold Embrace of Fear - A Dark Romantic Symphony
Tracklist
1.

Act I - The Pass of Nair-Kaan

02:01

2.

Act II - Dark Mystic Vision

01:41

3.

Act III - The Ancient Fires of Har-Kuun

14:56

4.

Act IV - The Betrayal

03:58

5.

Act V - Neve Rosso Sangue

04:41

6.

Act VI - Erian's Lost Secrets

04:28

7.

Act VII - The Angels' Dark Revelation

03:59

Total playing time

35:44
在中文中没有找到相关文章, 英语部分的文章已被显示

评阅 @ darknessguide
By the time "
The Frozen Tears of Angels
" got released, some people started complaining about slight little details such as the small quantity of narratives, while others were whining over the lack of a major musical theme from the introduction as a finishing repetitive touch used during the last compositions as a final frame in order to enfold the entire material within a solid consecutive cycle. Well, the new EP, called "The
Cold Embrace
of Fear – A Dark Romantic Symphony", has many of those in abundance. From another point of view, its intention is to just push the initial storyline a little bit further so I wouldn't complain, having in mind that Rhapsody of Fire seem to achieve their goal remarkably well in such a short term. The "real" songs are three, meaning not over 25 min. of music.
Namely because of the plot dynamics, bound together with a highly qualitative composed structures, the first introductions and the 15-minutes long epos in the face of "The
Ancient
Fires of Har-Kuun" hint a lot on "The
Mystic Prophecy
of the Demonknight" from "
Triumph
or
Agony
" through their general completion and natural development. The progressive touch from the beginning shines out several times through the entire length of the composition as a fellow-companion walking side by side to the outstanding melodious bridges and choruses (featuring parts of the lyrics in Italian), along with an incredible level of perfectionism in the strictly concentrated choirs, orchestrations and maybe the most beautiful main theme written by the band and entwined into the final curtain calls. "Neve Rosso Sangue" is a gentle acoustic ballad, this time performed in its entirety in the band's own language as a distant tribute to "Danza Di Fuoco E Ghiaccio" from the actual album, but still a long way off from its cheerfully medieval spirit. Another thing worth mentioning is that the multilayered vocal lines used at the end of the track do a beautiful job before giving way to "Erian's Lost
Secrets
" – the shortest song of them all. Yet short as it is, it mixes at one place music as if taken out from "the best of" Rhapsody (not speaking of repetitions) in less than just five minutes. A slight flavor of Eric Adams in Fabio's screams, a vague
Manowar
-inspired riffing basis, renewed portion of magnificent choruses… crowned by the very same recognizable choral melody, fading under the powerful voice of sir Christopher Lee.
…And there you have it, the perfect formula for a film score mini-masterpiece! Just in case somebody missed the big picture, I guess I'll stress on the inevitable truth once more –
Luca Turilli
is a genius without an analogue, no matter if we're talking playing or general compositional approach. The fact that Fabio Lione doesn't have a vocal rival amongst human beings is even more than just obvious, so I'll spare you that one.
Other productions from Rhapsody Of Fire
Other famous albums in Symphonic power